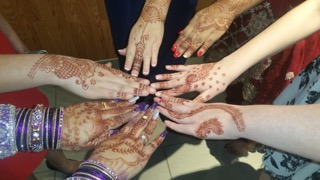 CHADDS FORD — Eminence Salon and Spa is launching a new charity campaign titled "Henna against Hunger" on Valentine's Day.
The initiative organized by Eminence Salon and Spa has been titled as "Henna against Hunger" and will raise money for the Kennett Area Food Cupboard.
Henna Art or a Henna tattoo is a temporary body decoration. It is often seen on women's hands or feet and is used for celebrations and rites of passage. The owners of Eminence Salon and Spa offer henna tattoos as one of their many services. They decided to use this unique art form as a way to help people in their community.
On Tuesday, February 14th from 2 pm to 8 pm at Eminence Salon and Spa located at 6 Ponds Edge Drive Suite 3 in Chadds Ford will offer Henna designs on your hand for $15 along with light refreshments. This will be a fun event for women of all ages, and all of the profits from this event will be donated to the Kennett Area Food Cupboard. Please call 484-776-5140 to make reservations.