Local music schedule has something of a friends' theme this weekend
By Denny Dyroff, Staff Writer, The Times
Phil Collen is no stranger to music fans around the world. Collen is the lead guitarist for both British rock band Def Leppard and alternative roots/rock band Manraze.
Collen, one of England's top guitarists, added a new activity to his musical resume when he formed Delta Deep as an extreme blues project. On March 29, Delta Deep will make its Philadelphia debut with a show at Ortlieb's (847 North Third Street, Philadelphia, 267- 324-3348, www.ticketfly.com).
Delta Deep features Debbi Blackwell-Cook  on vocals, Forrest Robinson on drums and Robert DeLeo on bass. The band released its debut album "Delta Deep" last year on Mailboat Records. All the members of Delta Deep have serious credentials as world-class musicians.
Robinson, a standout drummer with roots in heavy metal, played for The Crusaders, Joe Sample, TLC, and India.Arie. DeLeo, who is the bassist for Stone Temple Pilots, is known for delivering bottom ends that are both fiery and melodic.
Collen met Blackwell-Cook in 2010. She not only performed at his wedding but is also his wife Helen's godmother. Blackwell-Cook's performance history includes theater, a stint as lead singer in an 80's R&B band, background vocalist for Michael Buble and Gregory Hines and singing for Pope John Paul II.
"When I heard Debbi sing, I thought — this is my favorite voice," said Collen, during a phone interview last week. "After my wife and I got married, Debbi would visit us at our house in California and we'd sit around the house singing Motown songs and blues classics.
"About three years ago, Debbi, my wife Helen and I started writing songs together — even with subject matter such as slavery. It just naturally went in the direction of the blues. So, we just let it develop naturally.
"Our first show was at San Diego's Gerson Institute, which provides alternative treatment for cancer patients. We performed an acoustic thing and people came up after the show wanting to buy a CD. That's when we started writing our own songs.
"Debbi and I harmonize a lot. She has a gospel/church background. I played a demo of what we were doing for Forrest and he said — I have to be the drummer in this band. Forrest is a session royalty who has recorded with everyone from Joe Zawinul, to TLC to the Crusaders.
"Robert was local. I'm a huge Stone Temple Pilots fan. Robert is a huge Motown and James Brown disciple. When we all got together, it was jaw-dropping from a sonic and melodic point of view."
When the four got together to make an album, they created a record that can best be described as "totally kick-ass."
"We did the bass and drums at Robert's house studio," said Collen, who grew up in London's East End and is still a huge fan of West Ham United F.C. (a soccer team from England's Premiership).
"We recorded the rest of the album at the studio I have in my house here in California. I still have a place in London but I've been living in California for 26 years. We recorded the album live and got most of the songs in the first or second take. If you don't get it in the first two or three takes, it loses some of the magic.
"In our current live show, we're playing pretty much the whole album — and some covers. We have a live album coming out this summer called 'West Coast Live.'  We recorded our show at a little club back in January."
Delta Deep plays music that works extremely well in little clubs — clubs that have the vibe of old roadhouse clubs in the Deep South. Fortunately for fans in this area, they will be able to see — and hear — Delta Deep perform in just such a setting in Philly next week.
Video link for Delta Deep — https://youtu.be/jQNAbqGJ7gI.
The show at Ortlieb's will get underway at 8 p.m. Tickets are $15 in advance and $18 day of show.
Ross Hammond and Sameer Gupta have been friends for more than two decades who came together recently to record a brilliant album titled "Upward." On March 24, they will perform together in concert at House Gallery 1816 (1816 Frankford Avenue, Philadelphia, http://www.museumfire.com/events.htm).
Hammond, a guitarist from Sacramento, California, has played on large stages and in small corners throughout the United States. His sound is equal parts jazz, folk, blues, spirituals and world music.
Over the last 20 years, Hammond has collaborated with such acts as Oliver Lake, Pheeroan AkLaff, Vinny Golia, Vladimir Tarasov, Nicole Mitchell, Dwight Trible, Calvin Weston, Jamaaladeen Tacuma, Nels Cline, Mike Pride, Max Johnson and Scott Ammendola.
Gupta is a Brooklyn-based jazz percussionist, tabla player, and composer. He is the founder of the jazz ensemble The Supplicants and drummer for the Marc Cary Focus Trio.
Throughout his career, Gupta has also worked with vidyA, Kosmic Renaissance, Grachan Moncur III, Victor Goines, Vincent Gardner, Sekou Sundiata, Sonny Simmons, Marcus Shelby, Calvin Keys, Richard Howell, Dayna Stephens, and Julian Lage.
"I do a lot of solo stuff and also collaborate with friends," said Hammond, during a phone interview Wednesday afternoon from a tour stop in Brooklyn. "I don't have a band right now. I like to go out and play with friends in different parts of the country. It's a lot easier than taking a band on the road.
"I'm a D.I.Y. kind of dude. The thing about touring for me — I never go to a place unless I plan on going back to that place. The trick is to get people to hear your music and want to hear you play again.
Hammond and Gupta come from radically different backgrounds — Gupta from Indian Classical music and Hammond from folk, blues and Appalachian music. When they improvise together, they transcend their respective histories and create something distinctly their own.
"My strongest roots come from a blues aesthetic," said Hammond. "If I'm into someone like John Lee Hooker, I can see similarities t John Coltrane. I've always listened a lot to black political freedom music. Sun Ra and Albert Ayler have always been my favorites. You just follow different rivers and they're all connected. Now, I'm doing a lot of acoustic music but it's all coming from the same place."
The music Hammond and Gupta make together is something completely different.
"Sameer and I played together in a band 20 years ago when we went to college together sat University of California Berkeley," said Hammond. "It was an improv-jazz-funk band.
"After that, he moved to Brooklyn. But, our lives have followed similar trajectories. With this project, we've taken Appalachian country blues and table and melded the styles together."
Video link for Hammond/Gupta — https://youtu.be/4pQ8nBZ2QQ8.
The show at House Gallery 1816 will start at 8 p.m. with Mitch Esparza and NOEMA as the opening acts. Tickets are $7-$10 sliding scale.
A lot of people — especially grandparents with young grandkids — think that grandchildren shouldn't stay up late at night.
Grandchildren — a highly-acclaimed rock band from Philadelphia — play a lot of club dates and that often translates into late hours.
The band — Russell Brodie, Adam Katz, Aleks Martray, Roman Salcic, John Vogel — has a show on March 25 at Boot and Saddle (1131 South Broad Street, Philadelphia, 215-639-4528, www.bootandsaddlephilly.com).
But, their grandmothers don't have to worry about them staying up late. Because of its location, Boot & Saddle has an 11 p.m. noise curfew.
Grandchildren have been steadily making a name for themselves since
Ever since songwriter Aleks Martray founded the group in Philadelphia in 2008, the band has been building a reputation for creating cinematic orchestrations blending folk, pop and electronic music — intricately-layered arrangements and high-energy performances.
According to Martray, the band's eclectic sound is due to his nomadic upbringing across Europe, the United States and Latin America and a reverence for music of the past. This vibe is what defined Grandchildren's first two albums — "Everlasting" (2010) and "Golden Age" (2013).
Grandchildren recently released their third album "ZUNI" — about which Martray wrote, "Creating this record was about embracing the nightmarish feelings and surreal twilight zone moments that occur in real life. Not trying to wake up from them, but actually walking further into their landscape and exploring their narratives for deeper truths, no matter how inconvenient they may be. That's where we find strength to take control of something that seemingly controlled us."
"ZUNI" was released last year by the Ernest Jenning Record Co.
"We recorded the album in August," said Martray, during a phone interview Wednesday morning from a tour stop in Hot Springs, Arkansas. "Then, we toured a bit in the fall and we're touring again now.
"I've been paring down the sound. Our early records were more orchestral. On the new one, I was writing more on guitar and piano — going back to my roots. It's a little folkie and more acoustic — but it still sounds like Grandchildren.
"I grew up listening to everything from classical to pop. I moved around a lot as a kid because I was in a military family. I grew up on an Army base in Germany in the 80s and there was a five-year culture lag in that pre-internet era.
"By the time I got back to the states, I was listening to classical composers like Rachmaninoff . That's why I got into the classical thing with Grandchildren. I went to college in Baltimore — the Maryland Institute College of Art. That's where I met a couple of my band mates in 2002."
Martray has always been the driving force behind Grandchildren — and the band's lyricist.
"I think of 'ZUNI' as lucid dreaming — dreams from when I was growing up and moving around a lot," said Martray. "Fiction is reality. We live most of our lives in fiction.
"One of the reasons for the shift in styles for the new album is that I'm always trying to challenge myself. I listened to a lot of pop and folk — songs that were more digestible. A rule for the album was no more than three things going on at one time. Simplify and clarify — do more with less."
Video link for Grandchildren — https://youtu.be/Wjcy-avmfio.
The show at Boot and Saddle, which starts at 8:30 p.m., also features Northern Liberties and Sleek Machine. Tickets are $10.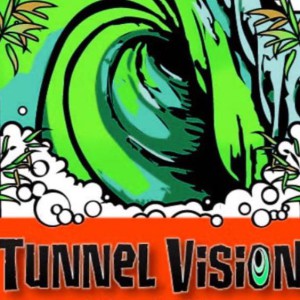 Another show in the southern part of downtown Philadelphia on March 25 will feature a band from the other side of the country. Tunnel Vision, a band based in San Clemente, California, will open for The Expendables at the Theatre of the Living Arts (334 South Street, Philadelphia, 215-222-1011, http://www.lnphilly.com).
Tunnel Vision — Hayden Hanson (guitar and vocals), Jacob Hernandez (bass), Tanner Payan (drums), Doug Alani (saxophone) and skater, snow boarder Matt Risley (keyboards) — has created its own sound using a blend of surf, reggae, punk, dub, ska and rhythm-and-blues.
The band is touring in support of it self-titled debut album "Tunnel Vision," which was produced by Grammy Award-winning James M. Wisner and recently released on WhiskeyBarrel Records.
"It started out with me and Jacob," said Hanson, during a phone interview last week from a tour stop in Indian Rocks Beach, Florida. "It was back when we were 15 or 16. We were all skaters and surfers in San Clemente. We started Tunnel Vision when we were younger but it was a different line-up and more of a punk rock band. The original lineup split and went different ways."
Growing up in SoCal, the band was heavily influenced by bands such as The Descendents, Black Flag, Misfits, Sublime, Slightly Stoopid, The Expendables, NoFX, Rancid, and Reel Big Fish
The boys have all worked in the surf industry for years, starting out in retail for Rip Curl and moving on to manufacturing surfboards for Lost Enterprises. Tunnel Vision recently increased the band from a three-piece to a five-piece by adding Alani and Risley. Both met the guys through their connections with Lost's retail store, Catalyst.
"A little while ago, Tanner and I started jamming and three years ago we formed this band," said Hanson. "Jacob took lessons and learned to play bass. Matt used to come into Catalyst. He had played reggae in other bands and Tanner and I both like reggae a lot. Matt came on as our keyboard player and he now lives with Jacob and me.
"All of our parents were musically inclined. My mom and her husband listened to reggae and ska and my dad listened to a lot of punk rock. I was always going to shows with my parents.  That's why I started out in punk rock.  And, all our families had a lot of skateboarders. My step-brother Nolan Johnson is a professional skateboarder."
Tunnel Vision quickly caught the ear of Anthony Levato (stage manager for Slightly Stoopid, Pepper, Good Charlotte) who introduced them to independent label WhiskeyBarrel Records.
Not long after, Slightly Stoopid, one of San Diego's legendary ska-punk bands, invited Tunnel Vision to record its debut album at The Lab at Stoopid's Studios in Mission Valley, California. The album was an instant hit and zoomed to a Number 3 debut on the iTunes Alternative Reggae chart.
"We recorded the album last July at The Lab and did everything live," said Hanson. "We jammed it in there and recorded 16 songs in five days. Now, we're looking to the next album.
"We're writing all the time and we've got some great new songs coming. We're going to be going into the studio in Miami this time. We did pre-production at our own studio. James Wisner will be our producer again and he has his own studio in Miami."
Video link for Tunnel Vision — https://youtu.be/R-r9IN2LeM4.
The show at the TLA, which starts at 8 p.m., features The Expendables, Passafire, Roots of Creation and Tunnel Vision. Tickets are $18.
Bands frequently talk about grass roots tours — tours where they take their music to their fans in very direct ways. Very few actually do it to the extent that the Fearless Records recording artists Real Friends are doing right now.
Chicago-based Real Friends –Kyle Fasel- bass; Dave Knox- guitar; Dan Lambton- vocals; Brian Blake- drums; Eric Haines- guitar — are currently on the road with label mates Movements, on a cross-country tour where tickets are only $5.
With the amount of music venues shutting down, and ticket prices going up, Real Friends wanted to give their fans a chance to see their energetic live show in an intimate and unique setting — for a low price. The 12-date tour will hit unconventional venues such as VFW halls, art galleries, skate shops and more — highlighting importance of supporting the local music scene.
According to Fasel, "We thought this would not only be a fun experience for our fans, but for the band as well. We want to create an experience that no one will forget. It's a shot at us taking things back to our roots a little bit. Being in a band is about having fun and there should be no rules. This run of shows will really highlight that."
When Real Friends bring their tour to Philadelphia on March 26, they will get up-close and personal with their fans in a show at a venue that features batting cages — Everybody Hits Philadelphia (529 West Girard Avenue, Philadelphia, 215-769-7500, http://everybodyhitsphila.com).
"The $5 tour was just an idea we had where our fans could see us play in a small setting with a $5 ticket," said Fasel, during a phone interview Wednesday afternoon as the band was travelling to a show in Atlanta.
"We've played all kinds of venues — a skate shop, a shoe store and an art gallery. We just want to create an experience our fans will never forget. It's not about making money. Everybody breaks even and we can just focus on having fun."
Real Friends has always had a blue collar vibe.
"We're just a product of being in local bands in Chicago and meeting each other," said Fasel. "It's not a huge story. It was a natural way for the band to start. We formed the band in 2010.
"We actually recorded before we played our first shows. We felt it was important to have music to sell at the shows. If fans like what they hear being played on stage, they want to have music to take home with them. We had our first EP out before we ever played a show."
Real Friends is now touring in support of its debut album "Maybe This Place Is The Same And We're Just Changing,"
"We recorded the album in February 2014 in Indianapolis," said Fasel. "We were playing the Warped Tour that summer so the main idea was to put it out in time for the tour. We had it for sale at the Warped Tour and it went over petty well.
"Everything was written before we went into the studio. For us, writing is a collective thing. Everyone plays their role. For that album, lyrically I wrote mostly everything. We never road test songs. We don't want to give away anything before we record it."
Real Friends are getting release their sophomore album soon.
"We're all done recording the album," said Fasel. "It will be out in late spring or early summer. We recorded it at studios in Garden Grove, California and in L.A.
"With the new songs, we've taken a more natural progression into the band we want to be. Some songs have a poppy aspect. We widened our influences. But, we still always maintain that mentality we built in with the pop-punk genre.
"We're going back out on the Warped Tour this summer. We're very excited to be playing Warped Tour 2016. It's such a good opportunity to play in front of people we don't usually play for. And, it will be our first time to play the main stage and that's really exciting."
Video link for Real Friends — https://youtu.be/erwryLrNHpI.
The show at Everybody Hits Philadelphia, which also features Movements, will start at 9 p.m. Tickets are $5.
In this age of computerized, digitized and sanitized popular music, it's always refreshing to come across a musician who is the polar opposite of a high-tech band. One of those musicians is Malcolm Holcombe.
Holcombe, a North Carolina native with an emotive baritone voice, plays country, folk, blues and Americana music in a straight-up, no frills style. On March 27, he will visit the area for a show at the Beach House (Fairview Avenue, Lansdowne, 610-626-0012,  http://www.facebook.com/concertsatthebeachhouse).
Last month, Holcombe released his 14th studio album, "Another Black Hole" on Gypsy Eyes Music. Produced by Grammy-winning producer and engineer Ray Kennedy and Brian Brinkerhoff, "Another Black Hole" features Holcombe's rasping vocals and bright, percussive guitar accentuating his insightful lyrics.
The 10-song disc, which was recorded at Room & Board Studios in Nashville, features long-time musical compatriots including Jared Tyler (dobro, baritone guitar, banjo, mandolin and harmony vocals), Dave Roe (upright and electric bass), Ken Coomer (drums and percussion), Tony Joe White (electric guitar), Future Man (percussion) and Drea Merritt (vocal harmony).
"I made the album back in July," said Holcombe, during a phone interview Tuesday afternoon from his home just outside Asheville, North Carolina. "I did it at Room & Board because a lot of my musician friends live in Nashville.
"I also wanted it produced by Ray Kennedy. He has all the equipment and he's a great producer. He knows how to get the sounds we were looking for. The songs themselves talk to the production.
"Most of the songs were written not long before I recorded them. I don't sit and wait for songs to come. I work at writing them. Eddie, an old friend of mine — rest his soul — used to say — if you like to eat corn, you got to get the hoe. When I have an idea for a song, I just try to get a pencil and scribble on a piece of paper and then go bang on my guitar."
Born and raised in the Blue Ridge Mountains of North Carolina, Holcombe is highly regarded and recognized by contemporaries in Americana music and has shared the stage with Merle Haggard, Richard Thompson, John Hammond, Leon Russell, Wilco and Shelby Lynne.
Over the years, Holcombe has built a large and very devoted legion of fans — much to his surprise.
"I don't know why fans like me and stay with me," said Holcome. "It's a curious thing. I really don't know. I ain't never had a peanut butter sandwich on Mars so I don't know about that either. I just try to make real music. I try not to veer off too much from what I see and believe."
Holcombe is closing in on his 50th year as a singer and musician.
"There was always music in our family," said Holcombe. "My mother played a French harp. My start in music came when I had a folk group in high school in the 70s. There's no great story. I'm just plain old vanilla — and just one scoop."
When asked if could recall why and when he decided to pursue a career in music, Holcombe replied, "I'm still thinking about whether making music is my career. I was a dish washer when I first moved to Nashville and I still wash dishes. You gotta keep your chops up."
Video link for Malcolm Holcombe — https://youtu.be/DHrNdXZCfxs.
The show at the Beach House on March 27 will start at 4 p.m. Tickets are $10.
Sometimes, less is more.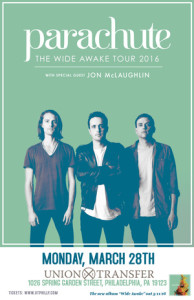 Parachute, a Virginia-based rock band, recently reduced its lineup by 40 per cent and the result was a sound as full or fuller than what had come before.
On March 28, Parachute — Will Anderson: Lead Vocals, Guitars, Piano; Kit French: Saxophone, Keyboards, Vocals; Johnny Stubblefield: Drums — will perform a show at Union Transfer (1026 Spring Garden Street, Philadelphia, 215-232-2100, www.utphilly.com).
"We started out in high school in Charlottesville (VA) as a five-piece band called Sparky's Flaw," said Stubblefield, during a phone interview Tuesday morning while in Nashville for rehearsals. "Our first three albums were made as a five-piece. Then, guitarist Nate McFarland and bassist Alex Hargrave left after this album cycle. It was an amicable split. They have their own families now and being out on the road is a grueling thing.
"Kit is one of our original members. He's been playing sax with us since 10th grade. His mom and my mom were college roommates. Will went to University of Virginia here in Charlottesville. I lived with him and went to a local community college. Kit went to Mary Washington University bur he came back to play — weekend warrior style.
"In our senior year in college, we were approached by Red Light Management and Mercury Records. Right after graduation, we were on the road with Jon McLaughlin. The 'Losing Sleep' album in 2009 was the first real Parachute record. We stayed with Mercury Records for three albums. We ran the course. They were great to us but it was time for a change. So, we moved to Vanguard Records. Some of our buddies — like O.A.R. — are on Vanguard. It's an awesome label."
Parachute's first effort for Vanguard was the new "Wide Awake" album which was just released on March 11.
"We did most of the recording last summer," said Stubblefield. "We were flying in and out of L.A. because our producer John Fields has his studio in Van Nuys, California. We had tons of songs coming in. We were happy to work with John again because he produced our first two albums. It was fun to record out there.
"John produced the album and played on it too. He's all over it especially with a lot of the bass parts. We recorded it part-by-part — start with the drums and then build on it. We did all the vocals. We did have a gospel choir come in but, for the most part, we do all our own vocal harmonies."
Parachute adds extra musicians when out on tour.
"In the live show, we all sing and play," said Stubblefield. "We bring along John Stotterhome to play bass and Alex Edwards on guitar. But, the band is always just Kit, Will and me. We've been playing together so long. We are Parachute — super streamlined."
Video link for Parachute — https://youtu.be/_gA1CPRqQLs.
The show at Union Transfer on March 28, which starts at 7:30 p.m., also features Jon McLaughlin and Brynn Elliot. Tickets are $21 in advance and $23 day of show.
There are millions of different ways that musicians come up with names for their bands — some obvious and some really obscure.
Arkells — a Canadian rock band from Hamilton, Ontario with a strange name — will visit the area on March 27 for a show at MilkBoy Philly (1100 Chestnut Street, Philadelphia, 215- 925-6455, www.milkboyphilly.com).
I'm sure most people in America have no clue where the name came from — maybe a Canadian take-off on the name of a character from the old TV sitcom "Family Matters" (Steve Urquell).
Arkells — Max Kerman, Mike DeAngelis, Anthony Carone, Nick Dika, Tim Oxford — became a band 10 years ago when they were students at McMaster University in Hamilton and have since become one of Canada's most successful rock bands.
The band is named after Arkell Street near McMaster University where the young musicians lived and developed their musical sound.
"Nick, Mike and I met in the first week of school," said Kerman, during a phone interview Tuesday afternoon from a tour stop in New Orleans. "I went to school specifically to profile people for a band. But, I did stay in school and get my degree.
"We were influenced by a lot of Canadian indie-rock bands like the Weakerthans and Wolf Parade — and by American bands like Wilco and the Strokes. That shaped our music. That's what we sounded like on our first record.
"As I've gotten older, I've learned to appreciate more kinds of music like R&B, electronic and hip hop. My dad went to school in Detroit and was a DJ at Wayne State University. So, through him, I was exposed to a lot of Motown and classic rock."
Arkells released their debut album "Jackson Square" in 2008 on Dine Alone Records. Their next two albums, which were on Universal Music Canada, were "Michigan Left" in 2011 and "High Noon" in 2014.
If the band stayed true to the chronological pattern it established for album releases, the next one wouldn't be due until 2017. Instead, Arkells are deviating from the pattern and putting out a new album in 2016.
"We have a new album that will be out later in the summer — and a single that will come out soon," said Kerman. "The album is all done. We recorded it at several different studios. We're always looking for ways to keep it challenging. The old school way of bunking down for two months — that seems dumb to me. I like to hop back-and-forth between studios.
"We did two songs at a one place in Los Angeles and five more at another studio in L.A. In December, producer Joe Chiccarelli flew to Toronto and did five songs with us there. We kept all 12 songs. Then, we got engineer Mark Needham to mix all the songs so they have a consistent feel. We trusted our gut with the way the songs were originally recorded."
Arkells are hoping to continue to build on the success they achieved with their previous album.
In 2014, the four-time JUNO Award-winning rock band released their third studio album, "High Noon."  The album reached #1 on the Canadian iTunes chart and is now certified Gold in Canada.
At the 2015 JUNO Awards, Arkells won "Rock Album of the Year" for "High Noon" as well as the award for "Group of the Year." This past October, they released their five-song digital EP, "Study Music (Songs From High Noon)" which features acoustic interpretations of their #1 single, "Leather Jacket," as well as their latest single "11:11." Arkells were named the most played band on Alternative radio in Canada in 2015.
"The new album is a bit different than what we've done before," said Kerman. "It's a little more extreme — on all sides. It's our silliest but also our saddest — and most extreme. It's the most experimental music we've recorded. We weren't interested in reproducing our earlier stuff."
Video link for Arkells — https://youtu.be/EzQbI7nhLVY.
The show at Milkboy, which also features Dreamers and The Karma Killers, will start at 8 p.m. Tickets are $10 in advance and $12 day of show.
When the Saint Johns performed in Philadelphia late last year, they offered fans a preview of material from their highly-anticipated full-length debut which was still several months away from being released.
Now, the Saint Johns — Louis Johnson and Jordan Meredith — are back on the road. The talented duo is touring in support of their album "Dead of night," which was officially released on March 4 on Kemosabe Records. The tour brings them to the area for a show on March 30 at the World Café Live (3025 Walnut Street, Philadelphia, 215-222-1400, philly.worldcafelive.com).
The 12-track album was written by Johnson and Meredith and recorded at New York's Avatar Studios with Grammy Award-winning producer, David Kahne, who has worked with acts such as Paul McCartney and the Strokes.
Since debuting with their "Open Water" EP in 2013, The Saint Johns have enjoyed widespread notice, including a booking on the "Late Show with David Letterman." Additionally, their music has been featured on The CW's "Reign," ABC's "Blood & Oil," FX's "Sons of Anarchy," ABC's "Nashville" and Fox's "So You Think You Can Dance." 
"We signed with Kemosabe and then went to New York to record the album," said Meredith, during a phone interview Tuesday from a tour stop in Milwaukee. "We recorded it in February and March at Avatar Studio with David Kahne.
 "We used to live in New York so it was fun because we were back in our old stomping grounds. We've been sitting on the album for about a year — mixing, mastering and waiting for the record label to find the right time to release it."
 Johnson said, "We have a five-song EP that's been out for two years. We started working on songs for the album right after that. We've spent the last two years writing and getting our team together. With our label, we're happy to have their support and help."
The Saint Johns have consistently made music that is fresh — music that is smart, lively and a treat for the ears.
"It's hard for us to say what kind of music we play," said Meredith. "I guess you could call it Indie-Americana.  It's got boy-girl vocals — like Fleetwood Mac. Still, it's hard to find a genre to put it in."
Johnson said, "We don't feel like we're similar to anyone."
Johnson and Meredith now live in Nashville but their roots are in northern Florida.
"We met in St. Augustine," said Meredith. "We were both in college and we met through mutual friends at a 'Taco Tuesday Party' in 2008."
Johnson said, "I was going to Flagler College and Jordan was at another school. Once we started playing songs with each other, we thought we worked together pretty well. At first, we were doing a lot of covers. Then, we started writing together. It was cool.
"Since then, we revised our sound a good bit. When we moved to Nashville, we were still trying to find our sound. We'll do as pop song and then an acoustic song. Then, we started focusing on our harmonies and playing a combination of indie rock and Americana."
Meredith said, "We moved to Nashville because there was nothing there for us musically in Saint Augustine. Actually, we moved to New York first, stayed there for a year and ended up being broke.
"We got invited to a songwriter party in Nashville and, within a month, we were living there. We played a lot of clubs around Nashville. We were trying to get heard. We made our first EP in Nashville two years ago.
"We have a group of guys who play with us in our live shows in Nashville. On the road, we tour as a three-piece — the two of us on acoustic guitar and we add an electric guitar player."
Video link for The Saint Johns — https://youtu.be/V9QOylF41uk.
The show at the World Café Live, which has Judah & the Lion as headliners, will start at 8 p.m. Tickets are priced at $14 in advance and $16 day of show. 
The Old Bar is a venerable music venue in the Fitzroy section of Melbourne, Australia. The club is known for presenting live music seven nights a week and for a diverse nightly lineup.
In the future, it may become famous as the bar that spawned an internationally-acclaimed rock band — Gold Class.
Gold Class — Mark Hewitt – drums; Evan James Purdey – guitar; Jon Shub – bass; Adam Curley – vocals — released its debut album "It's You" last summer simultaneously in Australia and in the U.S. (on the felte label).
Now, the quartet is touring the states with a show scheduled for March 30 at Kung Fu Necktie (1248 North Front Street, Philadelphia, 215-291-4919, kungfunecktie.com).
"We've been together for two years," said Shub, during a phone interview Wednesday afternoon form a tour stop in Los Angeles. "A few of us — Evan, Adam and me — worked together at The Old Bar and decided to put a band together.
"We didn't have much of a preconception of what we'd be doing together. We just got in a rehearsal room and started writing together. With this band, there is no one particular songwriter. It's pretty well done democratically.
"Mark and I played in other noise bands prior to this so we knew each other. With Gold Class, Mark was also there right from the get-go."
The four musicians really didn't know where their music would be heading.
"There wasn't much of a distinct idea," said Shub. "None of us knew what Adam's voice would sound like. Everyone was working from different angles. I don't really know how to explain the result. It's certainly rock music but finding a way to describe it has always been a pretty painful thing. It's sort of a guitar band."
Gold Class' first recording was a seven-inch, limited-edition single. The foursome then recorded "It's You" a little over a year ago at Head Gap Recording Studio in Melbourne.
"We recorded the album live in three or four days," said Shub. "We wanted to record the album live to make it fresh. I don't think we could have played to click tracks — to record tracks separately.
"We were in the studio last February and then the album came out in the summer. We've been working on the second album and we have another seven-inch coming out in about a month. We've been touring a lot but we'll really start writing again when we get back home after these American and European tours.
"In our live shows on this tour, we aren't playing all the songs from the album — just a selection that's energetic and fun. And, we'll be playing a couple songs that weren't on the album."
Video link for Gold Class — https://youtu.be/Z3lCYGSzVMU.
The show at Kung Fu Necktie will start at 8 p.m. Tickets are $6.
The Flash (102 Sycamore Alley, Kennett Square, 484-732-8295, http://www.kennettflash.org) will present A Tribute to Linda Ronstadt w/ Lori Citro & The Accidentals on March 24, Beacoup Blue and Craig Bickhardt on March 25, and Angelee – Kindness and Hope Release Show along with Nik Everett on March 26.
The Steel City Coffee House (203 Bridge Street, Phoenixville, 610-933-4043, www.steelcitycoffeehouse.com) will host Harpeth Rising on March 24, The Sermon! On March 25, and Tom Guest And The Holts on March 26.
Chaplin's (66 North Main Street, Spring City, 610-792-4110, http://chaplinslive.com) will present Something Like Sound, Venture and Dottie Rebel on March 25.
The Ardmore Music Hall (23 East Lancaster Avenue, Ardmore, 610-649-8389, www.ardmoremusic.com) will host the following shows —
Red Baraat's Festival of Colors, Madame Gandhi, RAJAS on March 25; Stratosphere All Stars play David Bowie — Marcus Rezak (Digital Tape Machine), Steve Molitz (Particle), Dave Watts (The Motet), Clay Parnell (Particle + Brothers Past) w/ special guest Emily Clark and BlendMode on March 26; Golden Gate Wingmen — John Kadlecik of Furthur & DSO; Jeff Chimenti of The Dead & Furthur, Reed Mathis of Billy & the Kids, Jay Lane of Ratdog & Furthur on March 27.
Doc Watson's Public House (150 North Pottstown Pike, Exton, 610-524-2424, docwatsonspublichouse.com) will present Halos and Horns on March 25 and Mid Night Blue on March 26.
Burlap & Bean Coffeehouse (204 South Newtown Street Road, Newtown Square, 484-427-4547, www.burlapandbean.com) will present David Wilcox on March 25.
The Keswick Theater (291 N. Keswick Avenue, Glenside, 215-572-7650, www.keswicktheatre.com) presents the musical "Jesus Christ Superstar" on March 24, 25 and 26.
The Sellersville Theater (24 West Temple Avenue, Sellersville, 215-257-5808, www.st94.com) will have The Land Of Ozz (Ozzy Osbourne & Black Sabbath Tribute) on March 25,  Tom Cotter and Howard Algeo on March 26 and New Riders Of The Purple Sage on March 27.