Featuring students' work of all ages
COATESVILLE – The Studio's Student Art Show celebrates the creativity and artistic growth of students of all ages.  Artwork will be on display from November 24 through December 7.  Family, friends, and neighbors are invited to an opening reception on Tuesday, November 24, from 5 to 7 pm. The reception is free and open to the public; refreshments will be served.
The Student Art Show presents a wonderful opportunity for the community to recognize the remarkable talent of our emerging artists of all ages. This exhibition will showcase the work of students in the Studio's fall art classes in the City and art made across neighborhoods in greater Coatesville, such as after-school art classes for the Coatesville Area School District elementary schools. The work exhibited covers a great variety of media and subjects—from imaginative animé drawings and prints on fabric and paper to digital photographs and three-dimensional pieces.
The artwork will be on display at the Studio through Tuesday, December 7 on weekdays from 10:00 am – 5:00 pm. The Studio will be closed on November 26 and 27 for the Thanksgiving holiday. We encourage you to visit the Studio for the opening, meet our student artists, talk with our teaching artists, and register for winter art classes. You will see the enthusiasm for ART and the creativity that abounds in Coatesville at the Art Partners Studio.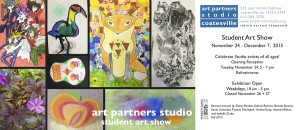 For more information about the exhibition or the Studio's art classes and generous tuition aid program, call the office at (610) 384-3030 or visit our website at www.artpartnersstudio.org. The Studio's office is located at 545 E. Lincoln Highway, in Coatesville.
Art Partners Studio is Coatesville's art studio—a place where artists of all ages, art making, and art are encouraged, supported, and honored. Studio programs partner artists with neighbors through classes, exhibitions, hands-on activities at City events, and community art projects.
Art Partners Studio receives generous support from Angel Grapevine, Gunard Berry Carlson Memorial Foundation, Chester County Community Foundation: Fund for Chester County, Fund for Teacher Support & Valerie Lamb Smith Art Fund, Citadel, Coatesville Savings Bank, Coatesville Youth Initiative, Connelly Foundation, Di & Dallas Krapf, Huston Foundation, Marshall-Reynolds Foundation, Jennifer & Robert McNeil, PECO, Pennsylvania Partners for the Arts, Rotary Club of Coatesville, Silicon Valley Community Foundation, Stewart Huston Charitable Trust, Target, and TD Bank.
For more information contact:Teresa Salinas, teresa@artpartnersstudio.org, (610) 384-3030