Steam engines, fish rodeo among busy list of events planned for this weekend
By Denny Dyroff, Correspondent, The Times
If you ask people what words they associate with the arrival of spring in southern Chester County, some of the most common responses would probably be "colorful flowers," "chirping birds" and "warm weather."
However, if you ask people who are fans of equestrian events, the most likely response will be "steeplechase races" and "horse shows."
The season for equestrian events has arrived in Chester County's "Chateau Country" and a number of steeplechase races are the highlights of the spring schedule. One of the most popular is the Willowdale Steeplechase in Unionville.
The 22nd Annual Running of the Willowdale Steeplechase will be held on May 11 from 10 a.m.-6 p.m. at the Willowdale Steeplechase grounds, which are located at the intersection of routes 926 and 82 — just south of the campus of Unionville High School.
The first two activities once the gates open at 10 a.m. are the "Tailgate Competition" and the "Antique and Unique Car Display" — both of which are slated to run all day. The opening competition will be the "Jack Russell Races" at 11a.m. followed by "Pony Races" at 12:15 p.m.
The first steeplechase race will go off at 1:30 p.m. The cross country horse races are scheduled to conclude at approximately 4:30 p.m. Gates will close at 6 p.m.
The Willowdale Steeplechase is a first-class steeplechase course that features an uphill approach to the fences. This encourages less speed and more jumping and, as a result, causes less wear and tear on the horses.
This year's Willowdale Steeplechase has several beneficiaries — The Stroud Water Research Center, the University of  Pennsylvania School of Veterinary Medicine at New Bolton Center and Quest Therapeutic Riding Services, Inc.
Tickets for the event are $30 for adults, $30 with children (under 12) admitted free. For additional information, call (610) 444-1582 or check outWillowdale Steeplechase's website at http://willowdalesteeplechase.org.
Another eagerly-anticipated local event each spring is the Brandywine River Museum's "Wildflower, Native Plant & Seed Sale." The well-attended annual activity will be presented by the museum on May 10 and 11 on its grounds along the banks of the Brandywine Creek in Chadds Ford.
Visitors to the "Wildflower, Native Plant & Seed Sale" will be able to choose items from a wide array of categories and varieties. No plants are collected from the wild and most are propagated by Conservancy volunteers.
Many of the plants and seeds on sale at this weekend's event are difficult — some are virtually impossible — to find in retail garden centers. This annual event offers a wide variety of regional plants and seeds that are suitable for full sun to deep shade and all types of landscapes.
Native plants are a great way to "go green" because they are adapted to the local growing conditions and require less water and maintenance. Many varieties will attract songbirds, hummingbirds and butterflies and help strengthen the local ecosystem.
For a complete list of the flowers and seeds available for purchase, go to http://www.brandywinemuseum.org/documents/PlantSaleList2014.pdf. All proceeds from the sale benefit the Conservancy's diverse and beautiful Wildflower and Native Plant Gardens.
The event is free and open to the public. As an added attraction, Conservancy staff and volunteers will be available to answer questions and provide planting and horticultural information. For additional information, visit www.brandywinemuseum.org or call (610) 388-2700.
When May arrives, the trees in the area come alive with their vibrant spring colors — especially the dogwoods, azaleas and magnolias.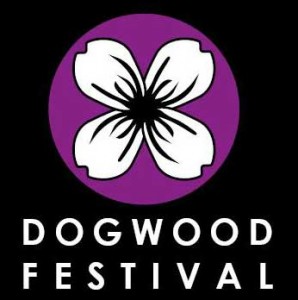 Every year, one of these species of trees is subject of a special celebration when Phoenixville presents its annual Dogwood Festival. The festival, which is one of Chester County's oldest annual events, is celebrating its 63rd anniversary. This year's festival is running from May 12-17.
The 2014 edition of the Dogwood Festival and Parade will take place at the historic Reeves Park Bandshell on Main Street in downtown Phoenixville with live entertainment each night.
The performance schedule kicks off on May 12 with Gene Galligan and John Valerio. Acts slated for May 13 are Kendall Phillips and the Hytha Family Band while the schedule for May 14 features Gene Galligan, the Audubon Symphony Orchestra and the Prince and Princess Contest.
On May 15, there will be live music by The Suspects and the Grace Assembly of God Ignite Student Ministries. They Know and Rock and Roll After School will provide the live music on May 16 while the roster for May 17 includes Kendal Conrad, Dave Sullivan and Rougarou.
The main day for activities at the festival will be May 17 with a parade, which is the second largest in Chester County, and other festivities running from noon-3 p.m. and live entertainment starting at 4 p.m. The parade, which is one of the festival's showcase events, is set to get underway at 1 p.m.
Admission is free for all the activities at the 63rd Annual Dogwood Festival. For additional information, call (484) 928-0052 or visit this website — www.phoenixvilledogwoodfestival.org.
Colorful trees are also featured at Chester County's parks but the focus will be on water-related activities at one of the county parks this weekend.
One of the best areas for fly fishing in Chester County is the western part of the county along French Creek. On May 10, Warwick County Park, which is located at 382 County Park Road in Warwick, is hosting its annual Kids Fishing Rodeo.
The Kids Fishing Rodeo, which is sponsored by the Coventryville Trout Club, has an entry fee of $5 per participant. Beginning at 8:15 a.m., kids (ages 15 and under) may register to participate in the rodeo, which is scheduled to start at 9:15 a.m.
The Coventryville Trout Club stocks an estimated 900 fish along a quarter-mile stretch of the French Creek. Volunteers will be on hand to assist kids who do not have any fishing experience. Kids may fish until early afternoon to be eligible for prizes awarded in various categories at 2:30 p.m.
For additional information on this event, call: (610) 469-1916 or visit the park's website at www.chesco.org/ccparks.
There is another special event this weekend that will lure people in a westward direction.
If you leave Coatesville and take a short drive west along Route 30, you'll find a unique annual event that is scheduled for May 9 and 10 this year — the Rough and Tumble Engineers Historical Association's annual "Spring Steam-Up."
The festival, which will run from 7 a.m.-5 p.m. each day, offers a variety of special attractions, including sessions of "Plowing with Steam and Gas Tractors." This activity will be held only if weather is favorable to plow.
Visitors will be able to check out a wide variety of displays featuring steam engines, gas engines, steam tractors, gas tractors and antique cars. Also featured will be a model shop, a saw mill, two steam trains and blacksmithing demonstrations at the museum's blacksmith shop.
"Tractor Games" are scheduled for 4 p.m. (Friday only), while the "Parade of Power" will be presented at 10:30 a.m. (Saturday only).  Two other activities which are scheduled for Saturday only are the "Garden Tractor Pull," which will be held immediately after the parade, and the "Children's Pedal Tractor Pull" (for kids weighing from 35-80 pounds) will be held at 1 p.m.
Tickets for "Spring Steam-Up" are $5 for adults and $2 for children (ages 6-12). For more information, call (717) 442-4249 or visitwww.roughandtumble.org.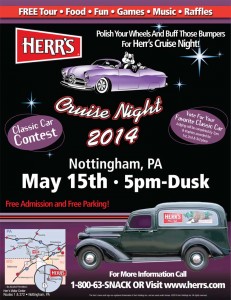 Another type of engine will be featured at one of the popular annual events at Herr's Snack Foods in Nottingham — the automobile engine in "cruising" mode.
There are many definitions for the word "cruising" — ranging from a trip on a luxury ship to looking for a potential partner in a night club.
One type of cruising can lead to legal troubles. Drivers can be issued a traffic ticket and be forced to pay a fine just because they repeatedly drove up and down a street — usually to show off their customized car of pumped-up sound system.
In Riverside, California, the minimum penalty for a first conviction for "cruising" is a $100 fine while a second conviction within one year, carries a minimum penalty of a $200 fine.
But, cruising is not frowned upon everywhere — especially in Nottingham when Herr's Snack Foods hosts its Annual Cruise Night. Visitors to the event, which is scheduled for May 15, will find that cruising is welcomed rather than frowned upon.
The well-attended annual event, which is celebrating its 15th anniversary this year, will get underway at 5 p.m. and continue until dusk. Cruise Night features free admission and free parking.
Over 300 classic cars and hot rods will be on display. Car owners are encouraged to register in the people's choice contest for first, second and third place "Best of Show" trophies. Spectators will be able to vote for their favorite classic car between 5-7 p.m.
The free family-oriented event will also feature factory tours, food booths with festival fare, children's games, music by a disc jockey and a variety of door prizes and raffles. For more information visit www.herrs.com or call (610) 932-9330 .