To The Editor: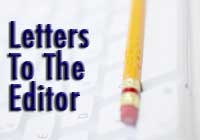 Candidates for public office filed their fundraising reports this week and I was shocked by the report submitted by Congressman Joe Pitts.
Mr. Pitts is the Chair of the House Subcommittee on Health. As such, he has oversight and regulatory powers over the health care industry. Yet Mr. Pitts' filing revealed that he accepted contributions from 29 organizations representing corporations and associations in the health care field. These ranged from health insurers to specialist associations to manufacturers. The total of these contributions in the last quarter was at least $62,500.
In my mind, this is an outrageous conflict of interest. How can he ethically accept so much money from those who he is entrusted to regulate and oversee? The honorable and moral thing to do would be for him to return these donations and pledge not to accept them in the future.
It appears that Mr. Pitts might have forgotten that he is there to serve us, his constituents, and not the health care industry.
Wayne Braffman
Kennett Square