Murphy lone hold-out on $71.1 M 2012-13 spending plan
By Mike McGann, Editor, UnionvilleTimes.com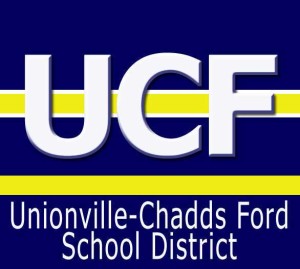 PENNSBURY — In the end, it was almost quiet.
The Unionville-Chadds Ford Board of Education gave preliminary approval to its 2012-13 budget Monday night, which calls for an average 1.83% tax increase for district taxpayers.
By an 8-1 margin, the board approved the $71,109,857 spending plan, which will mean a  tax increase of 2.69% in Chester County and a decrease in Delaware County of 1.74% (the difference is caused by differing gross property values of the two counties as set by the state). The preliminary approval comes a month earlier than typical, although final approval is still slated for June.
Although at least one other member had been vocal about wanting to lower the tax increase — Keith Knauss, who chairs the board's Finance Committee — in the end, only Frank Murphy voted against the budget as proposed. Knauss said he accepted that it was clear that there were more than five votes in support of the budget as presented, so he opted to show unity with the rest of the board.
Murphy, though, decided to hold out and argue once again for tapping the district's reserves to lower the impact on taxpayers this year.
"We should not take more than we need to," Murphy said.
His colleagues, though, argued that the need — especially with concerns about the impact of coming years — was clear and that they were not taking the funds frivolously.
Board member Victor Dupuis cited concerns over multiple years of pension increases to come, concerns about how the new state funding mechanisms would likely erode state funds and the continued struggles of the economy as reasons not to further tap the reserves.
Knauss acknowledged Murphy's concerns, but that the numbers amounted to about $20 per household in taxes a year, although he allowed he might support an amended motion on the budget, if offered.
Other members, though, reenforced their arguments that keeping the numbers where they are now could prevent real sticker shock next year for taxpayers.
"I'm worried most about the next year," member Holly Manzone said. "I think I'd rather see a little pain now than a big tax increase next year."
"I think rainier days are to come," board Vice President Jeff Leiser said.
Murphy countered by arguing that the funds could be taken from the reserve account without it dropping below the 5% mark that is board policy (the current budget calls for a 5.23% reserve).
Murphy's arguments did not sway any of his colleagues, and the budget was given preliminary approval by an 8-1 margin. The board will have to give final approval to the budget in June — and changes to the final tax rate could still be made.
The entire budget is available for public inspection either on the web or at the district office.