By Denny Dyroff, Staff Writer, The Times
It's always exciting for local theater fans whenever a touring Broadway show comes to the area for the first time.
It's really exciting if the show is a recent winner of several Tony Awards.
Excitement is definitely on tap this week when the hit musical "Fun Home" comes to the area.
Now through June 18, the Kimmel Center's "Broadway Philadelphia" series will present "Fun Home" at the Forrest Theatre (1114 Walnut Street, Philadelphia,www.forrest-theatre.com).
"Fun Home," which is based on Alison Bechdel's best-selling graphic memoir of the same name, was a smash hit on Broadway.
The original Broadway production began previews at the Circle in the Square Theatre in March 2015 and opened in April 2015. It was nominated for twelve Tony Awards, winning five, including
The Kimmel Center has issued this advisory – "This event contains adult language and content."
That should come as no surprise to anyone familiar with the show.
"Fun Home" is a musical adapted by Lisa Kron and Jeanine Tesori from Alison Bechdel's 2006 graphic memoir of the same name. The story concerns Bechdel's discovery of her own sexuality, her relationship with her gay father, and her attempts to unlock the mysteries surrounding his life.
The show introduces us to Alison at three different ages as she explores and unravels the many mysteries of her childhood. It is a refreshingly honest musical about seeing your parents through grown-up eyes.
As Bechdel works on her memoir in the present day, the successful middle-aged cartoonist recalls two time periods in her life.
The first is her childhood, around age 10 (Small Alison), when she struggles against her father Bruce's obsessive demands and begins to identify her inchoate sexuality.
The second is her first year in college (Medium Alison), when she begins her first relationship and comes out of the closet as a lesbian.
It is the first Broadway musical with a lesbian protagonist.
The tour features Kate Shindel in the role of Alison Bechdel with Abby Corrigan playing Medium Alison and Carly Gold playing Small Alsion. Susan Moniz plays the role of the mother — Helen Bechdel.
"I wasn't familiar with the show when I first auditioned," said Moniz, during a phone interview last week from a tour stop in West Lansing, Michigan.
"I put myself on tape for an audition and sent it to the producers. They flew me into New York the next week to continue the audition. They gave me a couple scenes from the show and a song from the show to do.
"The only thing I knew about the show was the song 'Ring of Keys' from the Tony Awards show. I did get the soundtrack when I was getting ready to audition for it."
Moniz got the role without ever seeing the show.
"I finally saw the show after we started rehearsals," said Moniz. "I wanted to see the effect of the show. I chose to see it only once because I didn't want to be affected by any other actor's performance.
"The show tells the story of Alison Bechdel. It's a play with music – more of a play than a classic musical. It looks back at her relationship with her father, who was a closeted gay. And, she's gay.
"He committed suicide when he was the same age as she is when telling this story. She looks back at her life and tries to see things more clearly. The story is done as a memory play – three stages of Alison's life.
"It looks back at what went on in the household. But, it's not told as a flashback. It's non-linear with no real flashbacks. It flows from one age to another – going back and forth. It's magnificent the way it flows back and forth.
"It's set in the 1960s and 1970s when she is younger and goes up to the present day. You see in the show that being gay is something she felt ever since she can remember.
"The song 'Ring of Keys' is her trying to put it in words. It's pure. This is who she really is. She's not like other little girls. She feels different than the role she's supposed to play."
This show is timely – especially with the current political challenges to the rights of the members of the LGBT community. It is also a show with appeal for everyone.
"The show is much more than just this little girl's sexuality," said Moniz. "It is universal. It's not just a gay show. It's a show that reaches across the subject. You've been a child and you've had a family so you can relate to it."
Video link for "Fun Home" – https://youtu.be/8mYQPMEysko.
The show at the Forrest Theater is running now through June 18 with 7:30 p.m. shows June 13-15, 8 p.m. shows June 16-17, 2 p.m. show on June 17 and 1:30 and 6:30 p.m. shows on June 18. Ticket prices range from $67-$132.
Lisa Bouchelle is now being touted as a "Country/Americana" artist. In reality, Bouchelle is an entertainer on a lot of levels.
She is a talented songwriter, a powerful singer and a mean guitarist. She is a musician who excels both as a solo artist and fronting a rocking band.
Bouchelle, who is headlining a show on June 13 at John & Peter's Place (96 South Main Street, New Hope, www.johnandpeters.com), is a sought-after backup singer.
She is also an accomplished cook, a former model and the host of her own television show.
"The 'country' description came in about five years ago," said Bouchelle, during a recent phone interview last week from her home in the Trenton area.
"I think I've always been alt-country along with folk and rock. The only thing that changed is that I've been getting good airplay on traditional country radio stations. It's the same type of songs though."
Now, she has a new EP "Lipstick Tomboy" and a new single from the EP – "Only the Tequila Talkin'."
"The EP was done recently," said Bouchelle. "It was a collection of four songs from 'Whole Lotta Highway.' I did a re-mix on the tunes from the album.
"The album really features the singer/songwriter aspect of what I do. I always start writing the songs on acoustic guitar. The album also has more of an Americana feel to it with pedal steel guitar and mandolin."
Bouchelle did a limited physical release of "Whole Lotta Highway" for her fans. It was co-produced by Jeff Trott (Sheryl Crow's producer and frequent co-writer).
"I did half of the album in California with Jeff Trott," said Bouchelle. "I did the other half at a studio in Edison, New Jersey. The album was five months in the making. The songs were all new. I always road-test songs before I release them. I don't consider them done until they're broken-in.
"The album is about my first tour in 2007. It was baptism by fire so I had to write about the experience. I got a call from my manager and he told me I had three days to get ready for a tour. I was opening for Blues Traveler.
"I was in Atlantic City on a Wednesday night and had to get to New Orleans by Saturday morning. I threw some canned goods in the trunk of my old Nissan and off I went."
Bouchelle, Blues Traveler's fans and John Popper (lead singer for Blues Traveler) all realized that her maiden tour was the start of something really good.
Popper and Bouchelle crossed paths again this year.
"'Only the Tequila Talkin'," which I wrote with John Eddie, was recorded as a duet with John Popper," said Bouchelle. "I ran it past John Popper and he was really down with it. It's a fun drinking song.
"When I perform now, it's as Lisa Bouchelle and the Bleu. It can be a duet or a full band. In New Hope, it will be a duet with a steel guitar player named Jerry Steele."
In recent years, Bouchelle has been building a fan base and establishing herself as a top-flight musician. She has sung duets with Jon Bon Jovi, John Popper, and James LeBrie of Dream Theater; sung backup for Bruce Springsteen; and done national tours and opened for Meat Loaf, Blues Traveler, Bryan Adams, Train, Ingrid Michaelson and Ted Nugent.
"I'm in it for longevity," said Bouchelle. "My fan base looks for me to be real. I don't pay any attention to genres. I write songs with soul — no matter the genre."
Bouchelle and her management are also in discussions with several interested parties concerning the national syndication of her TV show "Rock Star Kitchen," which is currently seen on The Comcast Network.
Video link for Lisa Bouchelle — https://youtu.be/06VbgC4rHBs.
The show at John & Peter's Place will start at 8 p.m. and feature free admission.
Like Bouchelle, Sera Cahoone has built a reputation in the rock world but has Americana and country roots that are bubbling to the surface.
After three albums on Sub Pop Records – a label with acts such as Soundgarden, Afghan Whigs and Fleet Foxes – Cahoone, who is headlining a show at MilkBoy Philly (1100 Chestnut Street, Philadelphia, 215- 925-6455, www.milkboyphilly.com) on June 14, is returning to her early country-rock influences.
Her new album "From Where I Started" was released in March on Lady Muleskinner Records.
"My contract was up with Sub Pop," said Cahoone, during a phone interview last week from her home in the Pacific Northwest. "I didn't know what I was going to do when I was recording this record.
"Fortunately, you can do so much yourself. I use ProTools and a decent microphone so I can get pretty good results on my own. My last album was in 2012.
"I've been working on new songs since then. It's been a while. I just write songs as they come. Life can throw a lot of things at you.
"I write on guitar. I come up with a melody and start singing it I just write songs as they come. Or, sometimes, I'll sit on drums and work out some nice rhythms. Drums are still my favorite instrument."
When she was growing up in Colorado, her father — a Rocky Mountain dynamite salesman — took the family to mining conferences at old honky-tonks.
The sounds she heard there—the twang of country crooners, cowboy boots on peanut shells—have found their way into the songs on her new album.
"I went into the studio last year," said Cahoone. "I did guitar, all the vocals and the drums. Then, I brought in other musicians. Having other people come in is fun. I recorded it at Flora Studio in Portland with John Askew."
The album also explores the darker side of the love.
One of the most compelling tracks of the album is "Ladybug," which is about the death of Cahoone's cousin Tawnee at the hands of a domestic partner.
While many country songs explore domestic violence, most do so in a heterosexual context. "Ladybug" is original in that it sheds light on the oft-hidden issues of domestic violence in queer relationships. Ladybug was one NPR's "Songs We Love" after it debuted this February.
"I'm gay so LGBT topics – if they come up, they come up," said Cahoone. "My song 'Ladybug' was big in the gay community but it was written for my cousin."
Video link for Sera Cahoone – https://youtu.be/b0boN8LRWoc.
The show at MilkBoy Philly, which has Birdie Busch as the opener, will start at 8 p.m. Tickets are $10.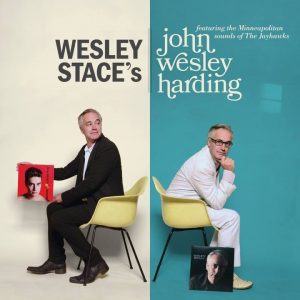 Wesley Stace, who will be performing a free show on June 14 at Pastorius Park (off Millman Street, Chestnut Hill, www.chestnuthill.org), has had a musical "split personality" for quite some time with music released under his own name and music released under the name John Wesley Harding.
Stace is now performing in support of his new album "Wesley Stace's John Wesley Harding." The second album under his real name, the album's title was chosen for a myriad of reasons including the urge to bring all his art under one banner.
Many of Stace's fans started as fans of the music of John Wesley Harding, a veteran British singer-songwriter who has released over 20 albums in the last 25 years.
Stace adopted his stage name from a Bob Dylan album of the same name a long time ago. Now, he has reverted to the name given him when he was born in East Sussex back in 1965.
Stace's most recent previous album — "Self-Titled" — was his first album featuring his given name.
Released by Yep Roc in 2013, it featured 16 songs recorded in Philadelphia with The English UK as backing band. It was produced by longtime collaborator Chris von Sneidern.
On his new album, Stace became the second British singer-songwriter rocker recently to make an album with The Jayhawks as the backing band. The Kink's Ray Davies also recorded his latest album using The Jayhawks as his band.
Stace recorded "Wesley Stace's John Wesley Harding" at Flowers Studio in Minneapolis. The album was co-produced by Stace and Gary Louris, who is guitarist and vocalist for The Jayhwaks.
In September 2105, Stace opened for The Nighthawks at the World Café Live at the Queen in Wilmington.
"Gary and I have been friends since then," said Stace.
"For the first song, I wanted to do 'Don't Turn Me Loose.' It was the first song I thought about and the first to be recorded."
"Don't Turn Me Loose" was released by Greenfield and Cook in 1972. The Dutch duo of Rink Groenveld and Peter Kok had a number of hits in the early 70s including "Only Lies," "Easy Boy," "Where," and "Don't Turn Me Loose."
"I'm a big fan of Dutch music – bands like Focus and Kayak," said Stace. "It's quality music."
Stace and Louris made the "Wesley Stace's John Wesley Harding" efficiently and effectively.
"We rehearsed for two and spent three days recording," said Stace. "It was very much a studio live record. I brought the tapes back from Minneapolis and did the lead vocals here in Philadelphia at Eric Bazilian's studio.
"This album happened a little differently. Normally, I make a record when I have songs ready. This time, I had a lot of songs left over from the last record. I do tend to write all the time but I don't finish them.
"I found songs that were written for 'Self-Titled' and other songs I knew that would sound good with The Jayhawks – four or five older songs and two or three new ones. Then, I wrote a few more songs to plug in the holes."
Stace also has had several novels published as Wesley Stace, including "Misfortune" in 2005, "By George" in 2007, "Charles Jessold, Considered As A Murderer" in 2010 and "Wonderkid" in 2014.
"I decided to go back to my real name for a lot of reasons," said Stace. "I got tired of using two names.
"I've had it in my mind to do for some time. My novels are done in my own name. I do readings as Wesley Stace and I teach at Swarthmore College as Wesley Stace."
Video link for Wesley Stace – https://youtu.be/0UhYM-xjjAs.
The show at Pastorius Park will start at &:30 p.m. Admission is free.
On June 14, Bobby Whitlock and CoCo Carmel are headlining a show at the Sellersville Theater (24 West Temple Avenue, Sellersville, 215-257-5808, www.st94.com) and will be playing music you know.
If you listen to classic rock – even only occasionally – you've heard Bobby Whitlock play. You're surely familiar with his music — even if you've never heard his name.
For example, Whitlock and Eric Clapton were the key members of Derek and the Dominos. The classic songs "Why Does Love Got to Be So Sad?" and "Bell Bottom Blues" were co-written by Clapton and Whitlock — as were many other Derek and the Dominos' tunes.
Prior to that, Whitlock had played keyboards for Delaney & Bonnie and Friends.
Early in his career, Whitlock was a session man with Memphis soul acts such as Sam & Dave ("Soul Man"; "Hold On I'm Coming") and Booker T. & the MG's ("Green Onions"; "Time Is Tight")
Over the years, Whitlock and recorded and/or performed with such rock legends as the Rolling Stones, George Harrison, John Lennon and Yoko Ono and Dr. John.
Whitlock also has released more than a dozen solo albums from 1972's "Bobby Whitlock" to 2013's "Carnival: Live in Austin, which he recorded with his wife CoCo Carmel.
This summer, Whitlock and Carmel, who is a guitarist, bassist and saxophonist, are hitting the road on "Sparkly Shoes Tour 2015" — a very special 10-date event presenting an all-acoustic evening of songs hosted in an intimate setting.
This veteran duo has worked with some of the most renowned guitarists in the world. For this tour, they have handpicked a different local guitarist to perform with them at each show.
"On the 'Sparkly Shows Tour,' it's just me and CoCo," said Whitlock, during a recent phone interview from a tour stop in Atlanta, Georgia.
"And, we get a different guitar player for every venue. For the show in Sellersville, the guitar player who will be with us is Lou Meresca.
"We don't look for guitarists. They hear we're going on the road and they ask us to let them play on our show. I know if I was a guitar player, I'd want to play with us."
Whitlock and Carmel have found a configuration that works very well for them.
"I doubt we'll ever go back to a full band again," said Whitlock. "It's so freeing – just CoCo and me and a guitar player with no bass player or drummer to get in the way.
"When you have a band, you lose touch with the audience. What we do here — this is a personal experience for everyone. We talk about what is behind the song. We're very vulnerable. The truth is there. There is no shroud covering us."
The idea for the tour has its roots in Austin.
"Carmel and I play a residency here," said Whitlock. "We've done over 350 shows at The Saxon in Austin. We just fell into this thing. We play and break in new songs and play old Derek and the Dominos songs that everyone loves."
Carmel has performed with such acts as Dr. John, Phoebe Snow, Jon Bon Jovi, Albert Lee, and Billy Preston.
"As opposed to having a band with us, having a guitarist with us is a great idea," said Carmel. "We start out playing guitar and then Bobby moves to piano and I play sax. It gives these young guitarists a chance to play these songs they've idealized."
When Whitlock and Carmel perform together, the chemistry is off the charts.
"Bobby and I have been together for 15 years," said Carmel. "Respect each other and give each other a lot of space. He tells me — hey, just do what you do. We just have that something that continues to work and grow."
Whitlock said, "We call our band 'The Invisible Souls.' You can't see them but you can hear them. Everybody already knows the songs I've written
"We're just playing these songs and some new ones. The new material threads in like it's always been there. We do back-and-forth vocals. I'm now singing the way I want to. My voice has matured.
"CoCo and I are a team. We're in a farm on the edge of town. We are friends, lovers, partners, husband-and-wife. People can see and hear and feel the special thing we have."
Video link for Bobby Whitlock and CoCo Carmel — https://youtu.be/DDbO1Hf8R5w.
The show at Sellersville Theater, which has Steve Brosky & Jimmy Meyer as the opening act, will start at 8 p.m. Tickets are $25 and $39.50.
For years, Canada has produced many, many great rock bands. Most of them are from Montreal, Toronto or Vancouver. And, many of them have remained relatively unknown in the United States.
Close Talker is a talented rock band from Canada that does not fall into the first category above and, if all goes well, will not fit in the other category either.
The trio — Will Quiring (vocals, guitar, keyboards), Matthew Kopperud (keyboard, guitar, bass pedal, backup vocals), and Christopher Morien (drums, backup vocals) – hails from Saskatoon, Saskatchewan.
On June 14, Close Talker will make its Philadelphia area debut with a show at Ortlieb's (847 North Third Street, Philadelphia, 267- 324-3348, www.ticketfly.com).
Formed in 2012, the band has made great strides in a short period of time — two album releases and numerous tours throughout North America, Europe, and the U.K.
"At the start, a mutual friend asked us to form a wedding band," said Kopperud, during a trans-Atlantic phone interview last week from a tour stop in Basel, Switzerland.
"We got together and played covers. We liked it and kept playing together. For the first couple years, Will and I lived in B.C. (British Columbia) but home is Saskatoon. We love it here.
"We were a four-piece when we started. Our bass player was older and had a proper job – so, he left the band. We decided then to make it a trio."
Close Talker released its first album "Flux" in 2014 and recently released its sophomore album "Lens."
"Our first effort was a single titled 'Timbers' in 2012," said Kopperud. "In 2013, we made an EP when Will and I were home from college for the holidays.
"We were going to Columbia Bible College in B.C. while Chris was studying chemical engineering at the University of Saskatchewan.
"We toured pretty hard after we released 'Flux' in 2014. It was our first time to play shows in Europe and the United States."
Next came the "Lens" album.
"Lens" was released April 21, 2017 through Nevado Music (worldwide) and DevilDuck Records (Europe). The 10-song LP was produced by Matt Peters (Royal Canoe, Waking Eyes) and mixed by Marcus Paquin (The National, Arcade Fire, Local Natives).
"When we were making 'Lens,' we were figuring out the trajectory of the band," said Kopperud. "We play indie rock with ambient atmospheric stuff. People say it reminds them of being in nature.
"It's very drum-driven. It has fairly intricate rhythms while, at the same time, protecting the melody – some pop elements and some hooks.  We don't stay away from pop elements.
"First and foremost, we want to write music for ourselves. We always want to protect our artistic integrity. We all write together — in the same room. We'll always write songs that we're stoked on."
Video link for Close Talker – https://youtu.be/O76ZzS67y-0.
The show at Ortlieb's, which also features Erik Kramer, Agent Moosehead, and Looseleaf Trio, will start at 9 p.m.
Tickets are $10.