By Denny Dyroff, Staff Writer, The Times
When audiences watch "Dirty Rotten Scoundrels" – the current production at the Candlelight Theater (2208 Millers Road, Arden, Delaware, 302- 475-2313, www.candlelighttheatredelaware.org) – they fall into three categories.
There are those who have seen the film starring Michael Caine and Steve Martin, those who have never seen the film and are unfamiliar with the story, and those who have seen the musical (which isn't very likely because it only went out once on a brief national tour).
One thing is common to all three groups watching the musical comedy at the Candlelight – they will laugh…actually, they will laugh a lot. The show is funny, and the humorous activity never stops.
Candlelight's top-flight production features Larry Lees as Lawrence Jameson, Tristan Horan as Freddy Benson, Timothy Moudy as Andre Thibault and Morgan Sichler as Christine Colgate – and they all nail their roles.
"Audiences love this show because it's funny," said Lees, during a phone interview this week form his home in suburban Philadelphia. "It's hard to find a musical in contemporary language that is as funny."
Dirty Rotten Scoundrels is a 2004 comedy musical, with music and lyrics by David Yazbek and a book by Jeffrey Lane; it is based on the 1988 film of the same name. The musical premiered on Broadway in 2005
It is the story of two men competing to swindle an American heiress out of $50,000. Caine plays the educated and suave British con man Lawrence Jameson, who stages elaborate ruses to acquire the wealth of rich women, so he can spend it on culture and a lavish lifestyle. Martin plays his less-refined American rival, Freddy Benson, a small-time trickster on the hunt for free meals and twenty-dollar bills. It takes place in the French Riviera.
"I saw the show in its very first public run-through years ago," said Lees. "Then, I saw it six more times om Broadway. I do love this show very much
"It's completely original in its voice. David's lyrics are so funny and contemporary. The music is so good. The jokes are priceless. I wish more people knew about it."
Lees was not originally planning to audition at the Candlelight.
"I generally don't seek things out," said Lees. "Peter Reynolds, the director, mentioned to me that he was doing the show. I told him that it was a dream role of mine. So, I auditioned and got the part.
"I had seen the movie when it first came out. Then, I watched it again going in to the Candlelight production. It is one of the rare movie-to-musical translations where the musical is better. It goes from 'very funny' to 'laughing in the aisles.'
"I'm having a great time working at the Candlelight. It's an incredibly professional organization with lovely people. And, I'm inspired beyond belief by all these talented young performers."
"Dirty Rotten Scoundrels" is running now through February 25. Performances are Friday and Saturday evenings (doors 6 p.m./show, 8 p.m.) and Sunday afternoons (doors, 1 p.m./show, 3 p.m.) with a matinee performance on February 14 and an added evening show on February 22. Tickets, which include dinner and show, are $63 for adults and $33 for children (ages 4-12).
Three months ago, Jerry Joseph released his newest album "Weird Blood" on Cavity Search Records. Now, Joseph and his band the Jackmorons (Steve Drizos on drums andSteven James Wright on bass) are touring in support of the new disc – a tour that brings them to the area on February 8 for a show at the World Café Live (3025 Walnut Street, Philadelphia, 215-222-1400, www.worldcafelive.com).
Joseph has released close to 30 albums in the last 30 years – including seven since 2010. "Weird Blood" ranks among the best.
"I recorded the new album in Portland, Oregon where I live," said Joseph, during a phone interview last week from a tour stop in Baltimore.
"We cut it at Jackpot Studio two Januarys ago. We were there for a long time. Dave Schools was the producer."
In 2015, Joseph and the Jackmormons went into TRI Studios with Schools and recorded 20 songs. Those songs became the albums "Istanbul/Fog Of War" (10/2015) and "By The Time Your Rocket Gets to Mars" (4/2016). The plan was to release a third album, an EP, with the remaining three finished songs supplemented by couple of new songs that Joseph would write. The plan went sideways.
"We were starting over when David Bowie died," said Joseph. "That definitely had an effec on us.
"I rented one of these tiny houses here not far from my home so I could tuck the kids in at night and then head to the studio to work on music. I ended up writing eight ore nine songs. When Dave Schools heard them, he said – let's record all of these."
When after a week of writing, Joseph arrived at Jackpot Studios, Schools was adamant they record all the new songs. They also recorded a couple written in Scotland, "Sweet Baba Jay" and "Late Heavy Bombardment" and a few that they've been performing but had never recorded.
"If I never write another song, I could probably record five more albums with the songs I've already written," said Joseph.
"I tend to write in flurries. I see the moment in my life. I'm very political – super radical on social media and with what I say on stage. But, that can date songs.
"The song 'Peace in Our Day' wasn't about war. I've been in many war zones over the years but I don't want to write political songs about it. The songs I wrote in Afghanistan were about magic."
In the past couple years, Joseph has traveled to war-torn regions to bring supplies and teach and share music. In 2015, he brought instruments and volunteered as a music instructor at an underground co-ed rock school in Kabul, Afghanistan. Last year, he brought guitars and supplies and taught and performed for the residents of a permanent refugee camp in the Kurdistan Region of Iraq.
According to Joseph, "For me, it was pretty profound. There were these teenage girls learning to play — Syrian Kurds. I wonder sometimes about the power or magic of music, but we certainly attach a lot to it. I think that there are these moments that I've found where music does make a difference. Showing these kids how to play a few guitar chords or teaching them 'Three Little Birds' by Bob Marley and teaching them about empowerment.
"It doesn't matter if it's clay or dance shoes, no one can take it away from you. They can take the guitar or the paint, but they can't take your creative thinking. A lot of these kids and adults feel isolated and alone, and you go — here [hand them a guitar and a social media account], you're not alone. You're part of something beautiful and bigger."
World travel was nothing new to Joseph.
"My dad was a marine biologist when I was growing up so we travelled a lot," said Joseph. "With Afghanistan a few years ago, they asked me to come and I did. That started a path for me. Last year, I was in Iraq. It's redefined my narrative."
Video link for Jerry Joseph and the Jackmorons – https://youtu.be/XS8YnTSdAUk.
The show at the World Café Live will start at 8 p.m. Tickets are $18.
Another show on February 8 will feature WHY? at Union Transfer (1026 Spring Garden Street, Philadelphia, 215-232-2100, www.utphilly.com).
WHY? is an indie rock/hip hop band founded in 2004 by Cincinnati rapper and singer Yoni Wolf, who had been using Why? as his stage name since 1997. In addition to Wolf, who serves as lead vocalist and multi-instrumentalist, the band features multi-instrumentalists and backing vocalists Doug McDiarmid and Matt Meldon, and drummer and backing vocalist Josiah Wolf (who is Yoni Wolf's older brother).
The band has released five studio albums, along with several extended plays, demo albums, and live albums, since their inception. Their first, 2005's "Elephant Eyelash," came two years after Yoni Wolf's final release as Why?. They followed this album with "Alopecia" (2008), "Eskimo Snow" (2009), "Mumps, Etc." (2012), and "Moh Lhean" (2017).
"Moh Lhean" streamed on Consequence of Sound and was released on March 3, 2017 via Joyful Noise Recordings. A follow-up to "Mumps, Etc.," it is the first fully home-recorded WHY? album since the project's 2003 debut.
"We like to keep it fresh," said Yoni Wolf, during a recent phone interview from his home in Cincinnati. "Each album has its own feeling. 'Moh Lhran' is not a hip hop labum. It has some psych-rock influence. The music is about being grateful to be alive."
This cosmic sense of calm and acceptance woven throughout the album is due in part to Wolf's circumstances during the writing process. He suffered a severe health scare far from home, but rather than let it drive him to depression, he gained a stronger connection to the living.
"We cut the album in Cincinnati," said Wolf. "It was the first time we recorded and mixed at home. I have a studio in my home and my brother has a studio at his house.
"I think it has its own flavor. It sprawled out a bit nad took a lot of time. But, it didn't matter financially how long it took because we were using our own studios.
"It took several years altogether – four years or so. But, I was also doing other stuff. I'm working with a band called the Ophelias. It's a band from Cincinnati and I've been doing the producing and mixing for them."
Wolf's involvement with music goes back a long time.
"I got into music through my dad," said Wolf. "He taught my brother and me piano and drums. He's a rabbi and we grew up in a Messianic Jewish home. We went to synagogue two times a week and there was always music there.
"I started recording when I was in my late teens. Rap was the primary music I was listening to but also 60s-70s music like classic rock. I started making a career out of it pretty early."
Video link for Why? – https://youtu.be/EPDBjjJ3qzk.
The show at Union Transfer, which has Open Mike Eagle as the opener, will start at 9 p.m. Tickets are $17.
Other upcoming shows at Union Transfer are Mum on February 9, First Aid Kit on February 10, John Maus on February 11, and Phillip Phillips on February 13.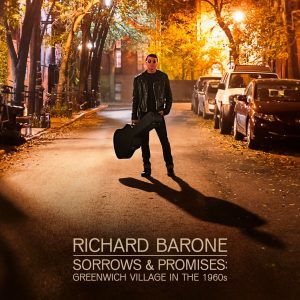 You can talk about Los Angeles, London, San Francisco and Nashville as music hot spots but New York City is – and always has been –  the music capitol of the world.
Rock music as we know it now – especially folk-rock – grew and flourished in New York City.
In the mid-to-late 1960s, folk music and rock music came together with some jazz influences on the side to take popular music to a whole new place.
It was when folk-rock was born and when the DNA for country-rock was starting to come into existence.
The epicenter of this music was Greenwich Village – especially the 20-square-block area near Washington Square that included Bleecker Street.
It was an area that was home to such legendary music clubs as the Bitter End, Café Au Go Go, the Gaslight Café, the Village Gate, Café Wha?, Gerde's Folk City and the Village Vanguard.
Richard Barone, a veteran New York rocker, knows the area and its history extremely well. And, he has a deep respect for the area's musical history and the world-famous musicians it spawned.
His new album "Sorrows & Promises: Greenwich Village In The 1960s" casts light on the songs that sprang from the singer-songwriters in and around Greenwich Village during that pivotal decade.
While Top 40 hits were being churned out uptown in the Brill Building and at 1650 Broadway, the downtown writers were weaving folk, blues, R&B and rock into songs that still sound fresh and inventive 50 years later.
Barone's choices cover a broad range of writers, from Buddy Holly, who was living and demoing songs in his Greenwich Village apartment just before he died, to upcoming artists such as Paul Simon, John Sebastian (of the Lovin' Spoonful) and Janis Ian; to artists who were redefining folk music for a new generation: Bob Dylan, Phil Ochs, Tim Hardin, Fred Neil.
Ever since the album was released, Barone has been performing it live. His current tour brings him to the World Café Live on February 9.
"My mission on the road is to bring 'Sorrows & Promises: Greenwich Village In The 1960s' to people everywhere," said Barone, during a phone interview Tuesday afternoon from his home in Greenwich Village.
"It's become the story of Greenwich Village as well as the story of the music. These shows also feature special guest  Anthony DeCurtis (acclaimed author & contributing editor of Rolling Stone). He's written a lot of great stuff, including the biography of Lou Reed.
"In this show, he takes the role of historian. He tells about what Greenwich Village was like fromn 1960-1967. Jeffrey Gaines in the opener and he is going to play songs he chose from that era.
"That era created so many songs. When I have guest artists in my shows, they pick their songs. The idea is to keep these shows like they would have been in the mid-60s. This story ends at the 'Summer of Love.'"
When Barone brings his "Sorrows & Promises: Greenwich Village In The 1960s" show to the World Café Live, he will be accompanied by Steve Addabbo. His guest is a Grammy-nominated producer, musician, writer, and recording engineer who mixed all 400-plus tracks from the 2017 Grammy-winning Bob "Dylan Bootleg XII" and mixed Barone's new album.
"I just gave myself totally to this project," said Barone, during a phone interview Tuesday afternoon from his home in Greenwich Village. "We're taking it around the country with different artists in different cities."
Barone explained the catalyst for his current project.
"I've lived in Greenwich Village since the mid-1980s and have always been aware of its history. I was taught about its history by Tiny Tim when I was younger and living in Tampa, Florida.
"He talked about how there were all these great artists living in the same area – artist like Dylan and the Lovin' Spoonful. As a kid, I had an idea that I'd visit Greenwich Village one day. I had no idea I'd ever live in the Village.
"It's still an amazing place. For years, I thought about all these artists living near Washington Square. They were a new generation of singer-songwriters. They wrote their own music and it was a big deal. My new album is a tribute to the genius of songwriting."
Led by Fred Neil, the roster of artists Barone covered is more than impressive – Tim Hardin, Lou Reed and John Cale, John Sebastian, Janis Ian, Buddy Holly, Paul Simon, Bob Dylan, Phil Ochs, Richard Fariña, Dion and Eric Andersen.
According to Barone, "Each time I walk out the door of my Greenwich Village apartment with guitar in hand, I'm aware that I stand in the long shadow of those who walked these streets before me. In the early 1960s, the Village became epicenter for one of the most revolutionary movements in the history of popular music.
"Inspired by the folk revival of the 50s and early '60s, the voices of a new wave of young songwriters emanated from the local coffee houses to radios all over the world. It was a cultural phenomenon that forever changed the way we perceive popular music.
"To pay tribute to those trailblazing troubadours for their artistry was a privilege and also a duty. Some of these writers and singers are household names, while others are less widely remembered.
"On 'Sorrows and Promises,' they are all inspirational, all worthy of being discovered all over again, or for the first time. Making this album has been a journey of self-discovery through their words and music that continue to echo in my neighborhood and beyond."
Some are dead – Tim Hardin, Lou Reed, Buddy Holly – and some are still filling arenas with their live shows – Dylan, Paul Simon. All are legends.
"At least half of them were bona-fide pop stars," said Barone. "They are great artists. Most of them at the time were from 20-24 years old except Fred Neil, who was around 30.
"My favorite artist on the album is Phil Ochs. I grew up with Phil Ochs songs. I love his topical songs – and I also like his songs that are not political. He was always really good no matter what he was doing."
Barone, who also has a gig as a music professor at New York University, has started turning his thoughts to his next project.
"I'll be starting to work on my next album soon," said Barone. "These songs are inspiring me to write for my next album of originals."
Video link for Richard Barone – https://youtu.be/Nnb00JafOUQ.
The show at the World Café Live, which has Jeffrey Gaines as the opening act, will start at 8 p.m. Tickets are $17.
Other upcoming shows at the World Café Live are PhillyBloco's Brazilian Carnaval/Mardi Gras Bash! w/ special appearance by Unidos da Filadelfia Samba School on February 11, Mardi Gras with Wild Bohemians – 34th Annual Mardi Gras Show on February 13, and "A Special Valentine's Day Jazz Concert: Celebrating the Music of Gamble & Huff and Curtis Mayfield" featuring Marcell Bellinger with special guest Larry Brown Jr. on February 14.
Busty and the Bass is a band that doesn't have a typical band history.
Busty and the Bass is a Canadian electro-soul and hip hop band. It's an English-speaking band from Montreal, Quebec and there aren't a whole lot of them around in the Francophile city.
Julian Trivers, one of the founding members, is from Los Angeles and there aren't many musicians from California active in the Quebec music scene.
And, Busty and the Bass are making their mark in the states – and only a small percentage of Canadian rock bands are able to find success south of the 49th parallel
The band is known for its unique brand of music, which incorporates two vocalists, a horn section, and a diverse range of musical genres. The line-up features Scott Bevins – Trumpet; Chris Vincent – Trombone; Nick Ferraro – Alto Sax, Vocals.; Louis Stein – Guitar; Milo Johnson – Bass; Julian Trivers – Drums; Eric Haynes – Piano, Keyboards: and Alistair Blu – Keyboards, Synths, Vocals.
The band is now touring the states in support of its new album "Uncommon Good." The tour touches down locally on February 9 when the band headlines a show at The Foundry at Fillmore Philadelphia (1100 Canal Street, Philadelphia, 215-309-0150, www.thefillmorephilly.com).
"I'm from L.A. and I came up here for music school," said Trivers, during a phone interview last week from his home in Montreal. "My parents' friends had a daughter in school here so I decided to check it out. Montreal is a great city.
After meeting in their first week of the McGill University jazz program, the nine-piece collective quickly shot up from packed house party jams to scorching live performances in front of thousands of fans across the US, Canada, Europe and the UK. On previous efforts the group recorded in the "busty basement", a place that guitarist Louis Stein says allowed for "experimentation and fun".
This time around they decided to step up their game, enlisting the skills of veteran producer/mixer Neal Pogue, best known for his work with acts like Outkast, Snoop Dogg, Earth Wind and Fire, MIA, Nikki Minaj, Aretha Franklin, and Lil Wayne.
"We all met each other at McGill University," said Trivers. "We started doing a weekend thing. Eventually, we started writing our own music after a year-and-a-half.
"We were all in the same grade at music school. And, we were in the same community of musicians. We started playing together and had good chemistry from the very beginning. Montreal is a good music city and it's easy to book shows here.
"Prior to the album, we made two EPs 'GLAM" in 2015 when we were still in school and 'LIFT' in 2016 after we graduated. Then, we got Neal Pogue to produce the album.
"He came to Montreal several times over the course of a year-and-a-half. He's back in Montreal now and we're already working on new stuff. And, we're working on mixtapes with different artists from our region. That will come out on a mixtape album later this year.
Each song on "Uncommon Good" feels like a single, from the brassy disco groove of "Up Top" to the Outkast-esque "Memories and Melodies" and the sensual, lyrical flow of "Dance With Someone." Compared to their previous EPs, their first full-length album finds them focused on the project as a whole, rather than just a collection of songs. It synthesizes a swirling mixture of funk, soul, rock, hip-hop, dance music, and gospel that is layered, polished, and unified.
"We had a bunch of songs that were going different places," said Trivers. "It was really important to have Neal on board to put things together – to be a part of the whole process – to make sure the sound was sonically cohesive.
"We wanted to show all the things that make up our music – soul, jazz, hip hop, electronic, funk, experimental and a bit of rock. Most importantly, we're hoping to make music that people actually feel."
Video link for Busty and the Bass – https://youtu.be/54aem8qFnWU.
The show at The Foundry, which has Max Swan and STS x Khari Mateen as opening acts, will start at 9 p.m. Tickets are $13.
Other upcoming shows at The Fillmore/The Foundry are Lauv on February 10, Steve Aoki on February 11, and The Academic on February 14.
On February 9, The Contortionist will visit Philly as one of the opening acts on Nothing More's "The Stories We Tell Ourselves North American Tour," which will take place at the Theatre of the Living Arts (334 South Street, Philadelphia, 215-222-1011, http://www.lnphilly.com).
The Contortionist is a prog-metal band from Indianapolis, Indiana. Formed in 2007, the band currently features guitarists Robby Baca and Cameron Maynard, drummer Joey Baca, vocalist Mike Lessard, bassist Jordan Eberhardt, and keyboardist Eric Guenther. The group has released four studio albums and three EPs.
"Home for the band is all over the United States but the primary base is in Indiana," said Lessard, during a phone interview Monday afternoon from a tour stop in Richmond, Virginia. "I'm from Maine. Jordan, our bass player, is from Denver and our keyboard player Eric is from Georgia."
Maynard and the Baca brothers are founding members. Lessard joined the band in 2013. Jonathan Carpenter left The Contortionist and Lessard departed Last Chance to Reason to replace him.
"At first, it was a temporary thing," said Lessard. "They needed a singer so I joined for two months of touring. Then, it became a permanent thing. I had toured with them before because our bands shared management. The old singer left with two weeks' notice. They called me and I jumped on."
The Contortionist was a death metal band in its early days and has gradually evolved into a prog-metal band.
The Contortionist's fourth album "Clairvoyant" belies the band's roots. Death metal is gone and sonically-layered, hard-edged progressive rock has taken over.
"The change has been a natural development," said Lessard. "The original music goes back to when the guys were 16 and 17 years old. Now, we're in our late 20s. Songwriting is a group effort and the change is natural.
"'Clairvoyant' was written when we were in a cabin in Maine for a month. We recorded the album in Winston-Salem, North Carolina early in 2017. Jamie King, the producer, had done our previous album and one of my previous albums. We knew there was chemistry there. He has a home studio so it was very natural."
The Contortionist represents fearlessness in musical expression, designed to please artist as much as audience. This band makes progressive metal music, anchored in the heavy sounds that first drew the individual players to the stage, yet unmoored by convention or expectation.
The band's first two records, "Exoplanet" (2010) and "Intrinsic" (2012), are wall-shaking heavy. The character of The Contortionist's sound expanded greatly with"Language" in 2014.
On "Clairvoyant," the band's distinctive fingerprints remain, even as their atmospheric flourishes broaden to encompass ever-richer textures and mine the beauty of simplicity.
"It didn't feel like it called for aggressiveness," said Lessard. "The vocals are a lot cleaner – but I still have to scream. I enjoy both but I like singing better. Live – it's a fairly good mix. This tour, it's a little more rock than metal."
Video link for The Contortionist – https://youtu.be/KJu3-qGap_k.
The show at the Theatre of the Living Arts will start at 7 p.m. Tickets are $25.
Other upcoming shows at the TLA are Machine Head on February 8, Coin on February 11, ZZ Ward on February 13 and Dave East on February 14.
Fans of rap and hop hop will be flocking to the Electric Factory (421 North Seventh Street, Philadelphia, 215-627-1332, www.electricfactory.info) this weekend with Datsik, Space Jesus, Riot Ten, Wooli, and Cookie Monsta on the bill for February 9 and a show on February 11 featuring Big Daddy Kane, Biz Markie, Roxanne Shanté, MC Shan,Kool G Rap, Craig G, Masta Ace and Marley Marl, Tuff Crew, MC Breeze, with special guests MC Lyte and Nice & Smooth.
Riot Ten is the stage name of Christopher Wilson –- an American DJ and producer based in El Paso, Texas. Riot Ten burst into the world of electronic music at age 22 with his unique blend of hardtrap, dubstep and electro. With original music out on Dim Mak, Never Say Die Black Label, Rottun Records, Firepower, and Buygore, and two Number 1 dubstep chart-topping singles in 2017, Riot Ten's music can be heard at clubs and festivals around the world.
"There are four acts on this tour, which is headlined by Datsik," said Wilson, during a phone interview Monday afternoon. "And, we have special guests in different cities.
"I had an EP with Datsik – first it was a single and then an EP. I think our relationship started with him using one of my songs. He's kept his eye on me ever since."
Boasting an expansive catalog of bootlegs, remixes, and original releases on Buygore, Rottun, Firepower, Elysian Records and Dim Mak, Riot Ten is quickly becoming a global ambassador of heavy bass music.
"A lot of times, when I try to plan a song out, it doesn't go very well," said Wilson. "Typically, I start it with the main sound – usually a bass lead and then I add drums. Then, I keep adding on. The vocals usually go on last."
Riot Ten's latest single "Rail Breaker," which was released by Dim Mak, reached Number 1 on the charts and has yet to leave a Top 10 position. It has already seen big support from the likes of Excision, Datsik, Steve Aoki, and Never Say Die label boss SKisM. Riot Ten's debut EP was released in 2016 on Datsik's Firepower Records. His 2017 "Rail Breaker World Tour" spanned 40 cities and had numerous sold out shows — including runs in Asia and Australia.
"Rail Breaker (feat. Rico Act)" spawned a five-track remix package of monstrous proportions. Harnessing the fury of dubstep growls, both SQUNTO & PerilEyes and MONXX utilize otherworldly sound design to full effect on their unapologetically heavy mixes. YOOKIE takes the original into a static-filled wasteland before EXSSV supercharges it with a bass house face lift. Rounding out the package, Code: Pandorum brings on the mayhem with their ruthless machine gun interpretation.
"With my collaborations, I'll send my basic song to someone," said Wilson. "All the stems are separated and he goes and completes it. Other times, we'll just go back-and-forth until it's done. The most I've gone back-and-forth with someone has been five or six times.
"Right now, there are about 14 remixes of 'Rail Breaker.' Most are unofficial. To do an actual remix, they have to have the stems. Without the stems, it's a bootleg and sometimes the bootlegs are really bad. With remixes, I'm usually the one who will reach out to somebody else."
Video link for Riot Ten – https://youtu.be/0cloLXzheuI.
The show at the Electric Factory, which includes Datsik, Space Jesus, Riot Ten, Wooli, and Cookie Monsta, will start at 8 p.m. Tickets are $37.50.
Other upcoming shows at the Electric Factory are Black Veil Brides + Asking Alexandria on February 10 and The Juice Crew Reunion with Big Daddy Kane, Biz Markie,Roxanne Shanté, MC Shan, Kool G Rap, Craig G, Masta Ace and Marley Marl, Tuff Crew, MC Breeze, with special guests MC Lyte and Nice & Smooth.
Kennett Flash (102 Sycamore Alley, Kennett Square, 484-732-8295, http://www.kennettflash.org) will have Better Than Bacon on February 8, Mardi Gras Party with The Hoppin' John Orchestra on February 9, Seventh Sojourn – The Moody Blues Experience on February 10, and Fresh Faces of The Kennett Flash with Think Machine, Vodka Moms, and Drivers Ed on February 11.
The Steel City Coffee House (203 Bridge Street, Phoenixville, 610-933-4043, www.steelcitycoffeehouse.com) will host Mike Agranoff on February 9, The McCruddens on February 10 and Steve Pullara Cool Beans Music on February 11.
The Colonial Theatre (Bridge Street, Phoenixville, 610- 917-1228, www.thecolonialtheatre.com) will present Al Di Meola on February 10.
The Ardmore Music Hall (23 East Lancaster Avenue, Ardmore, 610-649-8389, www.ardmoremusic.com) will present Kermit Ruffins with special guest New Sound Brass Band on February 8; Philly Gumbo: Mardi Gras Happy Hour on February 9; Eric Roberson with special guests Killiam Shakespeare feat. Reesa Renee on February 10; and "Winter Doldrums – Concert for Suicide Prevention" with Mason Porter, Kuf Knotz, Matt Duke, Andrea Nardello Band, Christine Havrilla, John Faye, Black Horse Motel, Tin Bird Choir, Everything Turned to Color, Lovers League, Michele Lynn's Vilomahed Project, Vilebred, Hannah Taylor & The Rekardo Lee Trio, Brian Flanagan Band, Sonja Sofya, Sweetbriar Rose on February 11.
Burlap & Bean Coffeehouse (204 South Newtown Street Road, Newtown Square, 484-427-4547, www.burlapandbean.com) will present Danielia Cotton on February 9, and Laura Shay Band on February 10.
The Keswick Theater (291 N. Keswick Avenue, Glenside, 215-572-7650, www.keswicktheatre.com) presents George Clinton on February 8, Masters of Illusion on February 9, Who's Bad: The World's #1 Michael Jackson Tribute Band on February 10, and Celebrating David Bowie on February 11.
The Sellersville Theater (24 West Temple Avenue, Sellersville, 215-257-5808, www.st94.com) will have BeauSoleil Avec Michael Doucet on February 8, Kasim Sultan's Utopia on February 9, John 5 and Joe Deninzon & Stratospheerius on February 10, Marcia Ball on February 11, Al Stewart on February 13 and Kalimba: The Spirit Of Earth Wind & Fire on February 14.
The Grand Opera House (818 North Market Street, Wilmington, Delaware, 302-652-5577, www.thegrandwilmington.org)  hosts Band Called Honalee on February 10, The Orchestra with former members of ELO on February 10, and "An Acoustic Evening with Trey Anastasio" on February 13.