By Denny Dyroff, Staff Writer, The Times
Okay, it's a given that most of you will be hunkered down Sunday to watch all 19 hours of pregame — and of course, Super Bowl 52 featuring the Philadelphia Eagles. Even if you don't love football, there's local pride, the commercials — and yes, the food. So, even from here, we can see the big red crossout on your calendar for Sunday.
But what about Saturday? There's only so much football one human can cope with in a given weekend, right?
With a forecast of 18 degrees Saturday morning followed by a high of 33 degrees, February 3 might not be the ideal day for an area outdoor event – unless you want to ski, snowboard or skate.
Usually, winter weather in this area is not very conducive for outdoor events — except maybe activities for skiers, skaters, snowboarders and people who enjoy really cold outdoor temperatures.
However, this weekend might be an exception to the rule and that's a good thing for area art lovers.
On February 3, the Chadds Ford Historical Society will host its 10th Annual Winter Plein Air Event at its Barn Visitors Center (1736 Creek Road, Chadds Ford, 610-388-7376, www.chaddsfordhistory.org).
If you're wondering why the weather is a factor in the presentation of an art show it's because this weekend's event is not just another art show — it is a plein air event.
"En plein air" is a French expression which means "in the open air." It is mainly employed to describe the act of painting outdoors, which is also called "peinture sur le motif" ("painting on the ground") in French.
This weekend, a select group of artists will be creating works of art "en plein air." Artists from the Mid-Atlantic region will be painting around the Chadds Ford area as well as at the Barns Brinton House, John Chads House and along Brandywine Creek.
"Paint Out Chadds Ford" celebrates local art and artists and harkens back into time when early American illustrators and painters such as Frank Schoonover, Howard Pyle, Bayard Berndt, and N.C. Wyeth were inspired by the beauty of our region and painted outdoors.
After a session of painting in Chadds Ford and the Brandywine Valley, the participating artists will return to the Chadds Ford Historical Society's Barn Visitor Center to frame and hang their paintings for a special exhibit and art sale.
The Chadds Ford Historical Society will host a special art exhibition at the Society's Barn Visitors Center from 6-8 p.m. Visitors are invited to attend the exclusive "En Plein Air Preview Party" for a first look at the wet paintings while enjoying wine and hors d'oeuvres with the artists.
Guests can meet the artists, and view the work just completed in the Paint Out Chadds Ford plein air event as well as select art featuring the Brandywine Valley. All exhibited artwork is available for purchase. A portion of the proceeds from each painting sold helps support the Chadds Ford Historical Society.
Admission is $15 per person.
Chester County hosts a huge number of special events every year and the annual schedule is always filled with art shows, festivals and equestrian events.
One of the most popular art shows each year is Malvern Retreat House's Art Show (McShain-Horstmann Family Life Center, 315 South Warren Avenue, Malvern, 610-644-0400, www.MalvernRetreat.com).
While many shows are just weekend events, Malvern Retreat House's Art Show 2018 spans a full five days — from February 7-11. The ambitious show will have
more than 500 original works of art by more than 100 professional artists. The special feature this year is "Flora and fauna."
Participating Chester County artists are Terry Krazmar (Kennett Square), Vidya Shyamsundar (Downingtown), Mary Ann Weselak (Unionville), Marion Mackey (West Chester), Paula Mintzer (Malvern), Sandra Severson (Honey Brook), Diane Cannon (West Chester), Wendy McClatchy (Malvern), Maria de los Morales (Paoli), Gary Altoonian (West Chester), Rachel Romano (Kimberton), Steven Schaefer (West Chester), Fiona Katarina (Phoenixville), Angela Colasanti (Uwchland), Nell Hazinski (Charlestown), Jeanne Marston (Exton), Linda Beisty (Malvern), and Victor Mordasov (West Chester).
The list of county artists also includes Eugene Coggins (Malvern), Ginny Morton (Chester Springs), Lisa Lynn (Malvern), Remo (Honey Brook), Gregory Teter (West Chester), Claire Saponaro (Phoenixville), Kathryn Deaville (West Chester), Scott Foster (Downingtown), Teddi Silver (Landenburg), Donald Firth (Berwyn), Robert Siliani (West Chester), Sue Ciccone (West Chester), Eileen Gallagher (Kimberton), Jean Yoder (West Chester), Alecia Miller (Phoenixville), Luis Morales (West Chester), Jessica Teti Turgoose (Parkesburg), and Mary Holton (North Coventry).
Each piece of artwork will be available for purchase and show attendees will be able to shop for items in a variety of media, including painting, sculpture, photography, ceramics, jewelry, and glasswork. There is an added incentive to purchase art at this event. A portion of the sales will benefit Malvern Retreat House.  There is no Pennsylvania sales tax and 35 per cent of all artwork purchased is tax deductible.
The free show runs from 10 a.m.-7 p.m. from February 7-10 and from 10 a.m.-4 p.m. on February 11.
As an added attraction, there will be a "Wine and Cheese Reception" on February 8 from 5-8 p.m. The social gathering, which is also a free event, features a complimentary wine and cheese reception along with the opportunity for patrons to meet some of the participating artists.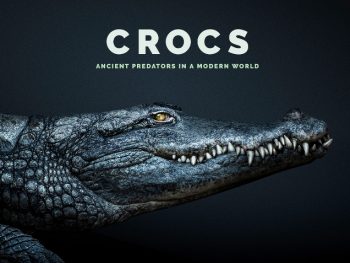 This weekend marks the opening of an intriguing new exhibit at the Academy of Natural Sciences of Drexel University (1900 Benjamin Franklin Parkway, Philadelphia, 215-299-1000, www.ansp.org) — "Crocs: Ancient Predators in a Modern World."
From a chronological point of view, this is a world belonging to crocodiles, alligators and its contemporaries.
Humans — a.k.a. homo sapiens – have been on earth approximately 200,000 years. That's just a drop in the bucket compated to crocodilians, which have been around for more than 200 million years.
The exhibit featured engaging interactive activities and informative videos. Crocs explores the rich and complex lives of alligators, crocodiles, caimans and gharials—their evolutionary history, biology and behavior, and their precarious relationship to people.
"Crocs: Ancient Predators in a Modern World," which will be on display until May 6, was created by Clyde Peeling's Reptiland in Allenwood, Pennsylvania.
"Crocs" introduces visitors to one of the most exciting and primal groups of animals through the presentation of amazing live animals, realistic croc models, engaging interactive activities, and informative videos. The exhibit explores the rich and complex lives of alligators, crocodiles, caimans and gharials—their evolutionary history, biology and behavior, and their precarious relationship to people.
Visitors to the museum will be able to come face-to-snout with live crocodilians, a group of reptiles that has evolved and thrived for 200 million years thanks to their brute strength, keen senses, and murderous instincts. Today's crocs range from diminutive forest dwellers to monstrous creatures that eat wildebeests, buffaloes, and occasionally people. Their ancestors were the galloping land predators, jumping insect eaters, pug-nosed herbivores, and ocean-going filter-feeders that haunted our waters and our dreams.
At the museum, visitors can check out live species (including the Siamese crocodile, the broad-snouted caiman, the American alligator, and the West African dwarf crocodile), peek into a real living alligator nest, learn to speak croc in under five minutes, test their strength against a croc's bite, check out awesome skulls, make water dance, create a 3-D animation of a long-extinct croc and learn all about croc attacks.
Tickets are $5 in addition to general admission, which is $19.95 for adults and $15.95 for children (ages 3-12).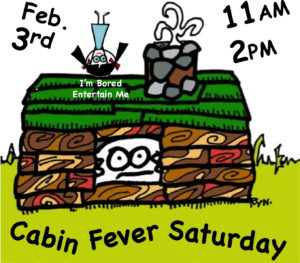 This weekend, Super Bowl Fever is at an all-time high for area residents. At the same time, another kind of fever might be affecting the younger part of the population – cabin fever.
On February 3, Historic Sugartown (690 Sugartown Road, Malvern, 610-640-2667, http://www.historicsugartown.org) will present a special event called "Cabin Fever Saturday" from 11 a.m.-3 p.m.
The event will have an array of family-friendly crafts and old-fashioned games along with demonstrations by Historic Sugartown, Colonial Pennsylvania Plantation, East Goshen Historical Commission, American Helicopter Museum and the Wharton Esherick Museum.
Featured activities include making paper using historic methods, creating Victorian Valentine Cards, making and playing with 19th century paper dolls, playing with early American toys and games, old-time activities with the East Goshen Historical Commission and touring Historic Sugartown's General Store and Carriage Museum.
Visitors will also be able to tour Historic Sugartown's Carriage Museum & General Store.
"Cabin Fever Saturday" will also include complimentary coffee and hot cocoa. Admission is $6 per person with children (ages 2 and younger) admitted free. And, there is free parking.
One of the best things about February is Valentine's Day and one of the best things about Valentine's Day is chocolate. Valentine's Day won't be here for another week-and-a-half but that won't keep chocoholics from celebrating early.

The Chaddsford Winery (632 Baltimore Pike, Chadds Ford, 610-388-6221, http://www.chaddsford.com) will host Wine & Chocolate Pairings every Saturday and Sunday in February from 1-5 p.m. and Valentine's Day (February 14) from noon-7 p.m.
The event will feature a walking wine-and-chocolate tour of Chaddsford Winery. Visitors can explore several areas of the historic property as they visit five stations featuring artisan chocolates carefully paired with our award-winning wines.
The "Wine & Chocolate Pairing" line-up, which features gourmet chocolates by Éclat Chocolate, includes Dark Salted Caramel with 2015 Proprietors Reserve Red, Vanilla Crème with 2015 Harbinger, Lavender Chocolate with Sunset Blush, Gingerbread Ganache with 2015 Barrel Select Chardonnay and Chaddsford Cocoa made with Chaddsford Red.
The schedule of live entertainment features MK & COL (February 3), Ryan Shubert (February 4), Sam Capolongo (February 10), The Road Tapes (February 11), Acoustic Keys (February 17), Christine Kinslow (February 18), and Trevon Raines (February 25).
Tickets are $30 per person.
The "Wine and Chocolate Pairings" at Penns Wood Winery (124 Beaver Valley Road, Chadds Ford, 610-459-0808, http://www.pennswoodsevents.com) will be held every Saturday and Sunday in February from 11 a.m.-5 p.m. (except February 4) and Valentine's Day (February 14) from 1-7 p.m.
In addition to its regular tastings, the winery is offering special tastings to celebrate is the month of wine, chocolate, romance and fun.
Penns Wood is adding new and exciting items to its wine and chocolate pairings this year! Featuring five of its wines carefully paired with local chocolate treats.
The newest Field Blend Red will be released on February 3rd and is included in the Wine and Chocolate pairings. It will also be available by the glass and bottle.
Tickets cost $25 per person in advance and reservations are required. Cancellations must be made within 72 hours or ticket holders will be charged the full amount of the tasting. Reservations are made and kept on the hour.
Kreuz Creek Vineyards (553 South Guernsey Road, West Grove, 610-869-4412, www.kreutzcreekvineyards.com) will present "Valentine in the Vineyard" on February 10 and 17.
On February 10, visitors can enjoy chocolate fondue made with Bevan's dark chocolate and the winery's Ruby "K" Port. Max and Denise will be playing pop music from the 60's to current times from 2-5 p.m. Bring your Sweetie! There is no charge.
There is no charge to enjoy the event either day.
Black Walnut Winery (3000 Lincoln Highway, Sadsburyville, 610-857-5566, www.blackwalnutwinery.com)  will have "February Wine and Chocolate Pairings" on February 10,11, 17, 18, 24 and 25.
The special days will feature a pairing of five of Black Walnut's wines with gourmet chocolates from Bridge Street Chocolates of Phoenixville. Wine and Chocolate pairings will take place at the top of hour at 1, 2, 3 and 4 p.m.
Cost is $2 per person and includes a Black Walnut logo wine glass. Guests can choose to upgrade their pairing to include a Port tasting as well (two port style wines) for $30 per person.
On February 12, Galer Estate Vineyard & Winery (700 Folly Hill Rd., Kennett Square) will host a special "Valentine's Day Wine Dinner."
The evening includes a romantic dinner for two at Galer Estate Vineyard and Winery featuring gourmet food from Talula's Table. Each course will be paired with Galer Estate wines — including an exclusive tasting of the Double Gold Cabernet Franc.
There will be one seating at 7 p.m. in the Red Lion Tasting Room with tickets priced at $240 per couple.
The menu features Pear & Walnut Salad with Rosemary Vinaigrette and Baby Baguette paired with Galer Estate's Grüner Veltliner, Maine Lobster Bisque paired with Galer Estate's Red Lion Vineyard Chardonnay, Glazed Beef Short Ribs, Kennett Mushrooms and Potato Gratin paired with Galer Estate's Cabernet Franc; Dark Chocolate Mousse Parfait and French Macarons paired with Galer Estate's Huntress Red Blend.
A great way for chocoholics to satisfy their chocolate cravings is to take a trip to Hershey during the month of February. This month, it's time for "Chocolate-Covered February in Hershey" (various locations around Hershey, 800-HERSHEY, www.chocolatecoveredfebruary.com).
It is only natural that Hershey, the town that bills itself as "The Sweetest Place on Earth," hosts a month-long celebration in honor of all things chocolate. Hershey has decadent chocolate events planned throughout the month of February.
This weekend, visitors to the Hershey Store can try their hand at making their own heart-shaped milk chocolate confections and hand-made truffles. Other activities are a "Chocolate Tea" at the Hotel Hershey and a "Chocolate and Spirits Pairing Class & Chef Demonstration" at the Hershey Lodge.
The "Hersheypark Chocolate Parade" will be held at the amusement park every Saturday and Sunday in February beginning at 2:30 p.m. each day. There will also be an "Interactive Story Time & Hot Cocoa" session at 1 p.m. and again at 3 p.m. at Hersheypark every Saturday and Sunday in February.
Other activities throughout the month include "Chef Demonstrations" at the Hotel Hershey, "Hershey's Chocolate Dessert Journey" at Hershey's Chocolate World, "Hershey's Character Breakfast" at Hershey Lodge, "Wild Treats" at ZooAmerica, and "Old Chocolate Balsamic Tastings" at the Hotel Hershey.
Offering visitors a respite from winter each year in February and March, Longwood Gardens (Route 1, Kennett Square, 610-388-1000, www.longwoodgardens.org) celebrates the one of the world's most popular plants – the orchid.
The celebration of the ultra-popular plant is called "Orchid Extravaganza" — an annual event that opened this year on January 20 and is continuing through March 25.
The largest family of flowering plants in the world is the orchid — a flower that is acclaimed as one of the most beautiful, delicate and graceful flowers in the world. The Royal Botanical Gardens of Kew list over 20,000 accepted species with about 800 new species added each year. Additionally, horticulturists have more than 100,000 hybrids and cultivars.
The celebration of the orchid species features thousands of orchid blooms along with a variety of displays and special exhibits throughout its four-acre conservatory. "Orchid Extravaganza" will also feature stunning displays of orchids in planting beds, containers and innovative exhibits.
As one of the first plant collections at Longwood, orchids have held a place of distinction since 1922. The site's talented horticulturists celebrate the beauty and variety of orchids with an artful display that includes a towering 12-foot-tall archway, a spectacular orchid curtain, and hundreds of vibrant Vanda orchids adorning the Silver Garden.
Approximately 5,000 colorful orchids hang from baskets, create inspiring arrangements and adorn unique forms throughout "Orchid Extravaganza." Those who visit the floral extravaganza in March will have the opportunity to see Longwood Gardens' rare sky-blue poppies in bloom in the Conservatory during Longwood's inaugural Winter Blues Festival.
Another attraction is "OrKid Days," which are scheduled for February 19 and March 17. Each "OrKid Day" includes a kids' performance, craft sessions and the "Orchid Sorting Game."
Admission to Longwood Gardens is $23 for adults, $20 for seniors and $12 for students.
One of Philadelphia's long-time winter traditions is The Wild Bohemians Mardi Gras Parade.
The 34th Annual Mardi Gras Parade in Philadelphia with The Wild Bohemians is scheduled for February 4 in South Philadelphia.
Participants are instructed to meet at1 p.m.at Fat Tuesdays, which is located at 431 South Street, Philadelphia.
The parade will leave Fat Tuesdays at 1:30. Organizers plan to wrap it all up by 5 p.m. so folks can get to their favorite football watching spot to watch the Super Bowl. In honor of Philly's participation in the big game, the Wild Bohemians have added the Eagles fight song to their play list.
The Wild Bohemians strut their stuff at their traditional Mardi Gras parade on South Street and all are encouraged to join the revelers.
Everyone is invited to dress in bright colored costumes to groove down the street as the Wild Bohemians' huge ensemble of musicians provide traditional New Orleans beats and tunes.
The event is free and open to the public.
If you're looking for indoor activities — especially if you have kids with cabin fever — there are two good options in nearby northern Delaware.
Altitude Trampoline Park (510 Justison Street, Wilmington, Delaware, 302-397-8142, http://www.wilmingtontrampolinepark.com) has several trampoline areas — "Main Court," "Obstacle Courses," "Gymnastic Tumble Tracks," "Trampoline Basketball," "Kids Court" and "Extreme Dodgeball."
The "Main Arena" features a grid or trampolines and two tumble tracks.
Rates for the trampoline areas are $15 for 60 minutes, $21 for 90 minutes and $25 for 120 minutes. Altitude Trampoline Socks, which are required, are $2 per pair.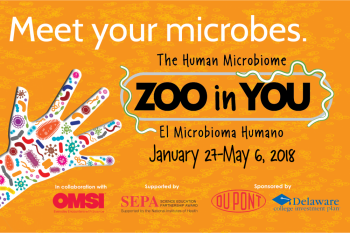 The Delaware Museum of Natural History (4840 Kennett Pike, Wilmington, Delaware, 302-658-9111, http://www.delmnh.org) has a new attraction. "Zoo in You: The Human Microbiome" just opened and is scheduled to run through May 6.
Trillions of microbes make their homes inside our bodies. They wouldn't be able to survive without us – and we wouldn't be able to survive without them.
The "Zoo in You: The Human Microbiome" exhibition invites people of all ages to explore the vibrant world of our inner microorganisms through engaging, interactive, and bilingual exhibits while discovering who our constant microbial companions are, where they live, how diverse they are, and in what ways scientists are discovering just how important they are to our personal health.
Admission to the museum is $9 (ages 3-59), $8 for seniors (age 60 and older) and $3 for toddlers (ages one and two).
In other museum activity geared for youngsters, the Garden State Discovery Museum: (2040 Springdale Road, Cherry Hill, New Jersey, 856-424-1233,www.discoverymuseum.com) is presenting a special program called "Passport to Discovery" on selected weekends now through the end of March.
February 3 was supposed to be the date for "Passport to Discovery: Italy." But, a bird of prey swept in and stole the weekend from the Mediterranean country.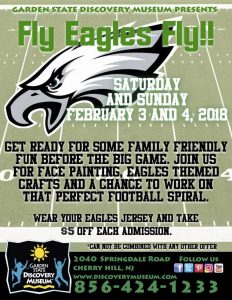 On February 3 and 4, the museum now will present a special event titled "Fly Eagles Fly!"
The event, which runs from 11 a.m.-4 p.m. each day, will feature face painting, Eagles-themed crafts and a "chance to work on that perfect spiral."
As an added attraction, there will be $5 off the cost of admission for everyone wearing Eagles jerseys.
"Passport to Discovery: Italy" has been moved to February 24.
Other activities in the series are "Passport to Discovery: A Frosty Weekend" on February 10 and 11, "Passport to Discovery: Africa" on February 17, "Passport to Discovery: Ireland" on March 3 and 4, and "Passport to Discovery: Polynesia" on March 17.
Admission to the Garden State Discovery Museum is $13.95 for adults and children 12 months and over and $12.95 for seniors.
On February 3, the Greater Philadelphia Expo Center (100 Station Road, Oaks, 610-529-3614,   http://www.eastcoastreptilesuperexpos.com/index.html) will host the East Coast Reptile Super Expo featuring hundreds of live snakes and reptiles.
The East Coast Reptile Super Expo, which is always a well-attended event, will run from 9 a.m.-4:30 p.m. this Saturday. Tickets are $10 with children (under five) admitted free.
Many people think snakes and lizards are interesting creatures and maybe even fun pets to own. If you fall into this category, you should check out the show on Saturday. A wide array of reptiles will be on display as part of the popular exhibition.
One of the show's main attractions is a sales exhibit area featuring a large number of vendors with live reptiles, amphibians and arachnids as well as food items, supplies, books, cages, and related accessories.
The roster of very diverse vendors includes AZO Reptiles, Rose's Reptiles, Livecargo Pets & Supplies, Dale's Bearded Dragons, Blake's Exotic Reptiles, Dower Reptiles & Rodents, Reptile Kingdom, DHA Pythons, Gecko Haven, Skins and Scales, Hunger Reptiles, Jungle Emporium, The Snake Pit, Delaware Turtle, Harris in Wonderland, Just Lizards and Outback Reptiles.
The list also includes RKZ Rodents. Monstar Reptiles, Turtle to Turtle, Delaware Valley Herpetarium, J-N-T Reptiles, Newville Dragons, PM Herps, Jay Jacoby Serpent Propagation, Black Jungle Terrarium Supply,AZO Reptiles, VSCV Ventures LLC, Dachiu Dragons, Tom Rogan Reptiles, Native Exotics and Jon & Wess Reptiles.
Other featured vendors will be Serpents Plus, Heath's Frog Farm, Corralus Creations, Rogue Reptiles LLC, Jason R Bartolett Captive Bred Reptiles, Fowler Reptiles, Dragon Fortress, Turtle Towns, Garden State Tortoise LLC, Reptile Addicts, Bob's Critters, Franken Chams, MCO Reptiles and Fins, Feathers, Paws & Claws.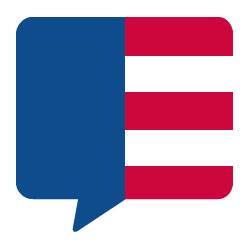 February is African American History Month and the National Constitution Center National Constitution Center (525 Arch Street, Independence Mall, Philadelphia, 215-409-6700, www.constitutioncenter.org) is honoring it with a number of special events and attractions that are running now through the end of February.
During the month of February, the National Constitution Center will pay tribute to the achievements and the courageous sacrifices made by African Americans throughout history as they strived to become recognized as an integral part of "We the People."
Activities at the Center will feature interactive programming designed for visitors of all ages. There will be artifacts highlighting important moments in African American history including a rare printing of the Emancipation Proclamation which was signed by President Abraham Lincoln.
The integral document is also featured in the "Decoding the Document: Emancipation Proclamation Document Workshop,"
Visitors are able to take a closer look at the museum's rare printing of the Emancipation Proclamation to learn more about its history, the history of the Civil War, and the background of the 13th, 14th, and 15th Amendments.
The "Breaking Barriers Show" looks at the lives of Thurgood Marshall, Bessie Coleman, Jackie Robinson, and other extraordinary African Americans throughout history to provide insight into the issues they faced and the rights they secured for all Americans.
On the "Self-Guided African American History Tour", visitors can tour the Center's main exhibition "The Story of We the People" and discover important moments in African American history through historical artifacts.
Some of the featured attractions on the tour are rare, signed copies of the Thirteenth Amendments and Emancipation Proclamation, President Obama inauguration artifacts, The American National Tree (featuring influential African Americans including Paul Robeson, Fannie Lou Hamer, Ward Connerly and Muhammad Ali) and an original printing of the Supreme Court's controversial Dred Scott decision.
As part of the museum's interactive daily programming in February, visitors can test their knowledge of African American history at the museum's "Giant Game Board." Children and families compete to see who can cross the finish line first.  Participants serve as game pieces as they roll the giant dice, answer questions and work their way across the board.
As an added attraction, the Center is offering a special "Winter Sale" on admission. Now through March 31, tickets are only $10 for adults and $7.50 for children.
Even if you have only a casual interest in cars, you'll find plenty to like at the Philadelphia International Auto Show. The 2018 edition of the popular show opens on January 27 and runs through February 4 at the Pennsylvania Convention Center (1101 Arch Street, Philadelphia, 610 279-5229, www.phillyautoshow.com).
The Philly Auto Show, which is one of the premier auto shows in the nation, continually grows and improves with new attractions every year. The 2018 show will be the biggest yet with more than 700 vehicles — and more than 40 brands — on display under one roof.
This year's 117th annual staging of the event features a 700,000-square foot display floor with a wide array of pre-production, production, exotic, classic, and concept cars. As one of the largest auto shows in the nation, the Philadelphia Auto Show annually welcomes approximately 250,000 attendees during its nine-day run.
The Philadelphia Auto Show is a showcase for the newest batch of models to capture the public's eye including Aston Martin Vanquish S Coupe, Bugatti Chiron, Mosler Raptor GTR, Bentley Bentayga, and Ferrari California T, SSC Ultimate Aero, 2017 Bentley Betayga, Mosler Raptor GTR, and Maserati Granturismo Convertible Sport.
A popular second-year attraction is the Hollywood Rides display. It will feature many of the movie industry's most iconic automobiles including Scooby Doo Mystery Machine, Vin Diesel's "Furious 7," Mater and K.I.T.T.
Camp Jeep will feature the Jeep Test Track, a 30,000-square-foot interactive adventure zone where professional 4×4 drivers allow riders to experience a Jeep's on- and off-road capabilities. Featured models will be Cherokee Trailhawk, Wrangler Unlimited, Grand Cherokee Trailhawk and Jeep Renegade Trailhawk.
The 2018 Philadelphia Auto Show hours are noon-10 p.m. on weekdays, 9 a.m.-10 p.m. on Saturdays, 9 a.m.-8 p.m. on January 29 and 9 a.m.-6 p.m. on February 5. Tickets are $14 for adults (age 13 and up), $11 for active military, $7 for seniors and children (ages 7-12). Children age 6 and younger do not require a ticket.
If you like to get outside during the winter months, you should check out the Blue Cross RiverRink (Delaware Avenue at Walnut Street, Philadelphia, 215-925-RINK,www.riverrink.com).
The Blue Cross RiverRink is an immersive winter-themed experience with a popular bar and restaurant called The Lodge, winter beer garden-style landscaping, a brand-new light show, and a retail shopping experience from Art Star Gallery & Boutique.
The outdoor rink's hours are 1-10:30 p.m. Mondays through Thursdays, 1 p.m.-12:30 a.m. on Fridays, 11 a.m.-12:30 a.m. on Saturdays and 11 a.m.-10:30 p.m. on Sundays. Skating admission price is $3 and skate rental costs $10.
Another popular outdoor winter attraction in downtown Philly is America's Garden Capital Maze at Dilworth Park (1 South 15th Street, Philadelphia, http://ccdparks.org/dilworth-park).
Located on the Greenfield Lawn, the maze features vibrant plantings, topiaries, twinkling lights, and décor that showcases all of the public gardens, arboreta, and historic landscapes that are located within 30 miles of Philadelphia. A "Welcoming Gazebo" is located at the center of the maze.
The Wintergarden and Maze is billed as "a way to celebrate in William Penn's original center square and the 32 regional gardens and arboreta that make this region America's Garden Capital."
Dilworth Park Wintergarden participants are Shofuso Japanese House & Garden, Stoneleigh: A Natural Garden, The Barton Arboretum & Nature Preserve of Medford Leas, The Gardens at Mill Fleurs, The Highlands Mansion & Garden, The Philadelphia Zoo, The Woodlands, Tyler Arboretum, Tyler Formal Gardens at Bucks County Community College, Welkinweir, Winterthur, and Wyck.
The roster also includes Ambler Arboretum, Arboretum at the Barnes Foundation, Awbury Arboretum, Bartram's Garden, Bowman's Hill Wildflower Preserve, Brandywine River Museum of Art, Camden Children's Garden, Chanticleer, Hagley Museum and Library, Haverford College Arboretum, Henry Botanic Garden, Henry Schmieder Arboretum, Hortulus Farm Garden & Nursery, Jenkins Arboretum & Gardens, Longwood Gardens, Morris Arboretum of the University of Pennsylvania, Mount Cuba Center, Nemours Estate, PHS Meadowbrook Farm, and Scott Arboretum of Swarthmore College.
America's Garden Capital Maze will be open now through February 25 – 9 a.m.-9 p.m., Monday-Thursday; 9 a.m.-11 p.m., Fridays and Saturday; 9 a.m.-8 p.m. Sunday.