By Denny Dyroff, Staff Writer, The Times
When the dawn of industrial rock arrived more than three decades ago, KMFDM was there.
The industrial scene has gone through many changes over the years. Many bands in the genre have risen, fallen and ceased to exist. Fortunately, KMFDM is not one of them.
KMFDM is still here and is making music more powerful than ever.
Sascha Konietzko and the members of his band KMFDM are the forefathers of industrial rock – the progenitors of a whole breed of rockers who view noise as a valid foundation for songs.
KMFDM has been around longer than a lot of musicians in today's bands have been alive. But, Konietzko and his crew never grow old.
They don't rest on their laurels — content to tour playing songs from 20 or 30 years ago. KMFDM is still making music that is vital, vibrant and vicious. This year, KMFDM celebrated its 33rd birthday on March 1.
On August 18, KMFDM released its latest album "HELL YEAH" via earMUSIC. Now, the German-American band is touring the states in support of its new LPO.
On October 6, KMFDM returns to Philadelphia for a show at Underground Arts (1200 Callowhill Street, Philadelphia, http://undergroundarts.org).
On "HELL YEAH," the legendary pioneers of industrial rock once again redefine themselves while at the same time staying true to their roots.
KMFDM's signature sound — a crossover between techno/dance and heavy metal — is combined with sometimes political, sometimes ironic lyrics and an underlying humorous edge.
"We started working on the album mid-summer 2015," said Konietzko during a phone interview Wednesday afternoon from a gas station in Cleveland, Ohio.
"It was done in two stages and we finished it in February and March this year. In between, we did the 'Rocks' album which was all remixes and older material. After 'Rocks,' we went into the second round of 'HELL YEAH.'"
KMFDM actually began in Hamburg, Germany as "Kein Mehrheit Fur Die Mitleid" ("No compassion for the majority") which eventually was shortened to the acronym KMFDM.
The band still features the nucleus of Konietzko (vocals, guitar, bass, programming, keyboards, synthesizer, percussion), his wife Lucia Cifarelli (vocals, keyboards), Jules Hodgson (guitar, bass, Keyboards) and Andy Selway (drums).
"We recorded the new album in Hamburg (Germany) where Lucia and I live," said Konietzko. "It started with just me and Lucia doing music and lyrics. Then, we got Andy in.
"With Lucia, we push each other — especially with vocal delivery. We bring out the best in each other. It's been a long time that we've been doing this together.
"We also worked with a great guitarist from Hamburg – Chris Harms from the band The Lord of the Lust. They were supposed to open for us on this tour but they had visa problems at the last minute and couldn't come."
KMFDM has released 20 studio albums, 15 of which feature the band's trademark one-word titles — "Opium," "UAIOE," "Naïve," Money," "Angst," "Nihil," "Xtort," "Symbols," "Adios," "Attak," "WWIII," "Tohuvabohu," "Blitz", "WTF" and "Kunst."
"As soon as a album is finished, new ideas pop in my head," said Konietzko. "It was interesting to do this album in two rounds. After the first session, we had a four-month break.
"After going back and listening to the first round, it was obvious what songs would make it and which ones would get thrown out. We came back and revised some tracks.
"It's a good way to do it. The song 'Shock' was written in one day and is a nice balance to all the angry stuff."
The album continues KMFDM's tradition of aural assault and relies heavily on powerful guitar parts and intense synthesizer work. It also features traditional instruments such as the Hammond B-3 organ.
"The Hammond organ has a long-standing tradition in KMFDM music," said Konietzko. "But, we don't bring it on the road. It would disrespect the instrument.
"Out of the 19 songs in our set on this tour, eight are from 'HELL YEAH.' And, we play a couple evergreens – songs the fans really seem to like such as 'WWIII,' 'Light,' 'Hau Rock,' and 'Godlike.'
"After this tour, I think I'll take November off. I need it to put my house in order. But, I'll be sitting in the studio before I know it."
The opening act on the tour is equally intense.
ohGr is an industrial band formed by Nivek Ogre, of Skinny Puppy, and musician/engineer Mark Walk. In recent years, ohGr has been making abrasive electro-industrial music.
Video link for KMFDM – https://youtu.be/1-Pp4OTEP24.
The show at Underground Arts, which has ohGr as the opening act, will start at 9 p.m. Tickets are $28.
Other upcoming shows at Underground Arts are Zakk Sabbath on October 5, Cold Fronts on October 7, Hundred Waters on October 8, and Deerhoof on October 9.
Gad Elmaleh is a polyglot, a product of many cultures and a very funny comedian.
The third attribute is what will be bringing Elmaleh to Philadelphia this week for a series of shows at the Helium Comedy Club (2031 Sansom Street, Philadelphia, 215-496-9001,philadelphia.heliumcomedy.com).
Elmaleh, a stand-up comedian and actor, was born in Casablanca, Morocco in 1971. His father was a mime. As a child, Elmaleh would introduce his father with a placard. His brother, Arié, is an actor and singer, and his sister, Judith, is an actress and stage director.
Elmaleh is a Moroccan Sephardic Jew, who was brought up in a culturally-diverse environment speaking Moroccan Arabic, Hebrew, English and French.
"When I was 17, I left Morocco and moved to Montreal," said Elmaleh, during a trans-Atlantic phone interview Monday from his home in Paris.
"After Montreal, I moved to Paris and then eventually moved to New York. My fascination with American stand-up comedy brought me to New York City. I want to9 be part of it as a comedian. And, part of it is thye 'American Dream.'
"The other reason is less specific. I wanted to be ablr to be excited again by my job and by doing my job – to go to the show with new jokes. If you go on stage with a new language, you have learn ech laugh. When a 100 per cent American crowd laughs, I've done my job."
Elmaleh was a student at Georges Bizet school and Lycée Lyautey in Casablanca prior to 9moving to Montreal. He stayed in Quebec for four years, during which he was a political science student for one year, worked on radio, wrote humorous stories and played them in night clubs.
In 1992, he relocated to Paris. He wrote a one-man show named "Décalages" which told a lot about his experiences in Montreal and Paris in 1996.
Three years later, he presented his second one-man show named "La Vie Normale," which revealed him as a humorist and as a great actor. He has starred in several feature films, including "Coco," "Priceless," "La Doublure" and "Midnight in Paris."
Elmaleh has been voted the funniest person in France and was named Knight of the Order of Arts and Letters by France's Minister of Culture and Knight of the National Order of Quebec. He is often referred to as the "Seinfeld of France."
"Jerry Seinfeld and I have been friends for years," said Elmaleh. "Last night, we did a show together at a small theater here in Paris – in English. The last time before this was at a festival in Montreal. I open for him and have gone on tour with him.
"I play with languages – knowing that people can be sensitive. When I've performed in Montreal in front of Quebecois, I imitate their accent.
"I studied English when I was a kid in Morocco. For the last two years, I've been really working on my English and the grammar. Staring over in another language in comedy is the most difficult challenge. Comedians play with words so you really have to know the language.
"The inspiration for my comedy is life. It is observational comedy. Seinfeld was my inspiration. I talk a lot about love, drink and food. I deal with universal topics from my perspective."
Ironically, GAD is an acronym for "general anxiety disorder."
Video link for Gad Elmaleh – https://youtu.be/9pMLZ08RCkE.
The shows at Helium will start at 8 p.m. on October 5 and 7:30 and 10 p.m. on October 6 and 7.
Tickets are $22 on Thursday and Friday and $26 on Saturday.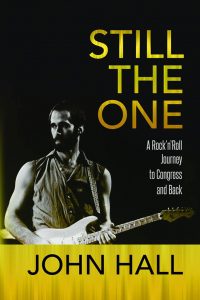 John Hall has gone through several transformations in his life – mainly from musician to politician and back to musician.
On October 5, the Sellersville Theater (24 West Temple Avenue, Sellersville, 215-257-5808, www.st94.com) will present "John Hall: Words and Music."
Hall will be playing his songs and telling the stories behind them, and meeting fans at the Sellersville Theater.
Ever since he was a child growing up and going to school — studying music and science — Hall learned three things: Play, Write, Listen.
Along the way, environmental and political concerns have kept Hall moving in and out of direct community involvement. He was elected to the Ulster County Legislature in 1989 and served one term in 1990 and 1991.
In the late 1990's, he was elected twice as trustee of the Saugerties New York Board of Education, where his fellow trustees elected him president.
Hall also served as a volunteer member of the Hudson River Sloop Clearwater's board of directors before running successfully for Congress in 2006. He represented New York's 19th District until 2011, when he returned to private life — and a life of music.
In his show, Hall will be performing and telling stories, including some from his new memoir "Still the One: A Rock'n'Roll Journey to Congress and Back."
Hall is best known as the founder of the band Orleans, which had major hits with "Still the One," and "Dance With Me." He also co-wrote Janis Joplin's "Half Moon," Steve Wariner's chart-topping country hit "You Can Dream of Me," and "Power," which became the theme of the "NO NUKES" concerts in the 1970s.
"For this show, I'll be playing some Orleans songs," said Hall, the only professional rock 'n' roll guitarist to serve in the U.S. Congress.
"I'll do the solo acoustic and electric thing and then turn to the book and music part. People want to hear the stories behind the songs.
"I also talk about my transition from musician to politician and back. Sometimes, my shows also have a question-and-answer segment. But, no matter what, there is always a lot of music."
Even prior to his venture into the world of politics, Hall was up-to-date and very involved with our nation's political and environmental situation.
"Every Orleans or John Hall album had at least one political or environmental song," said Hall. "My song 'Power' was big with the 'No Nukes' effort.
"It was printed in Sing Out magazine and then Peter, Paul & Mary and Pete Seeger did it. That's when I officially became a folksinger."
With Orleans, Hall was a player in a rock band. But, at the same time, he had roots that went way back in the world of folk music.
"When I was a kid, we had an old RCA wooden radio," said Hall. "I jerry-rigged a turntable and listened to my parents' records of Pete Seeger with the Weavers. Until electric guitar got my attention, I played acoustic guitar."
In early 1972, Hall's local jam band in Woodstock turned into Orleans when Wells Kelly and then Larry Hoppen joined the ensemble.
Later that year, Lance Hoppen joined on bass, freeing Larry to play guitar and keyboard. Orleans recorded four albums in the 1970s with the singles "Still the One" and "Dance with Me" both reaching certification of more than four million airplays in the United States.
Hall left Orleans in 1978 and made two solo records, "John Hall" and "Power." The latter featured the anti-nuclear anthem which later became the theme of the No Nukes concerts, recorded by the Doobie Brothers with James Taylor.
In late October 2004, Hall publicly commented that the presidential campaign of George W. Bush had not asked for permission to use the Orleans song "Still the One" at campaign events.
The campaign later dropped the song from their playlist. Four years later, Hall expressed similar disapproval when John McCain's presidential campaign also used the song without asking for permission.
Hall has been involved with Mid-Hudson Nuclear Opponents, who successfully fought the siting of a nuclear power plant on the Hudson River in Greene County.
While living in Saugerties, New York, Hall co-founded Saugerties Concerned Citizens, and helped write the town's first zoning law. When Ulster County announced plans for a 200-acre solid waste dump on the historic Winston Farm, Hall led the opposition.
"Right now, I'm very happy to be back playing music," said Hall.
Video link for John Hall – https://youtu.be/hpCmD59SqqQ.
The show at Sellersville will start at 8 p.m. Tickets are $25 and $39.50.
Other upcoming shows at Sellersville are Roseanne Cash on October 6, James Hunter Six on October 7, Rhett Miller and Cliff Hillis on October 8, Leo Kottke on October 10 and Skipper's Alley on October 11.
On October 6, Harrah's Philadelphia's The Block (777 Harrah's Boulevard, Chester, 484-490-1800, http://www.caesars.com/harrahs-philly), will host Kategory 5.
"We play mostly music from the 70s — pop, rock, one-hit wonders, and classic rock, said Pigliacampi, during a phone interview from her home in Unionville.
"We do songs by Kansas, Boston, Led Zeppelin and Abba. I think we're the only band around that plays Abba and Led Zep in the same show. People really enjoy being taken back to that era."
Kategory5 Band is a cover band featuring a diverse group of veteran musicians.
"All of us have played music in the area for decades," said Pigliacampi. "We have a big fan base from our solo work. We're all in our 40s and 50s and wanted to do the music we loved. Our goal is to play a really good mixture of nostalgia. We are all good singers so we have a lot of four-part and five-part harmonies."
Kategory 5, which provides the core of the show, is the new band featuring veteran musicians. The group features Kat Pigliacampi (lead vocals, keyboards), Al Mullins (drums, vocals), Andy Logue (lead guitar, vocals), Chris Lewis (guitar), Kyle Frederick (bass guitar) and John Cassidy (synthesizer).
"All of us have played music in the area for decades," said Pigliacampi,. Previously, I had done acoustic shows with both Chris and John. I went to Dickenson High with Andy and three of the guys went to high school together at William Penn High. John, Kyle and Al used to be in a band together called 13th Floor.
"We have a big fan base from our solo work. We're all in our 40s and 50s and wanted to do the music we loved. We took 70s and 80s songs that aren't necessarily mainstream and brought them back to life. We're mixing it up."
Pigliacampi listed some of the bands whose songs Kategory 5 would be playing — a diverse list that includes Abba, Led Zeppelin, Heart, Journey, Dave Mason, REO, the Doobie Brothers, Foreigner, America and the Beatles.
"We're playing classic rock with an edge," said Pigliacampi. "Our goal is to play a really good mixture of nostalgia. We are all good singers so we have a lot of four-part and five-part harmonies. Al calls it ear candy.
"We're looking to do specialty shows rather than be a bar band or a tribute band for just one act. We also are working on original material but not for this show. John is like a musical savant — and a human jukebox. In our show, we'll have 'Trivia Time' where the audience is asked to identify 70s TV shows' theme songs."
Video link for Kategory5 Band — https://youtu.be/bkt2V1ky7Ks.
The show at Harrah's on October 6 will run from 8-11 p.m.
Kennett Flash (102 Sycamore Alley, Kennett Square, 484-732-8295, http://www.kennettflash.org) will present "Beatlemania Again" on October 7.
The Steel City Coffee House (203 Bridge Street, Phoenixville, 610-933-4043, www.steelcitycoffeehouse.com) will host the Eugene Tyler Band on October 6, Craig & Aislinn Bickhardt on October 7 and "A Benefit for Disaster Relief" on October 8.
The Ardmore Music Hall (23 East Lancaster Avenue, Ardmore, 610-649-8389, www.ardmoremusic.com) will hots The Travelin' McCourys and Jeff Austin Band (formerly of Yonder Mountain String Band) on October 5; the Chris Robinson Band on October 6 and 7; and AM Radio + Back to Amy (Amy Winehouse tribute) on October 10.
Burlap & Bean Coffeehouse (204 South Newtown Street Road, Newtown Square, 484-427-4547, www.burlapandbean.com) will present Sharon Goldman, Trina Hamlin and Lara Herscovitch on October 6, and Darden Smith with Paul Sprawl on October 7.
The Keswick Theater (291 N. Keswick Avenue, Glenside, 215-572-7650, www.keswicktheatre.com) presents Whitney Cummings on October 5, The Spinners and Little Anthony and The Imperials on October 7, and Incognito on October 8.
The Grand Opera House (818 North Market Street, Wilmington, Delaware, 302-652-5577, www.thegrandwilmington.org) will have Ron White on October 5, Buddy Guy on October 9 and the Wood Brothers on October 11.