By Kelly Hockenberry, Columnist, The Times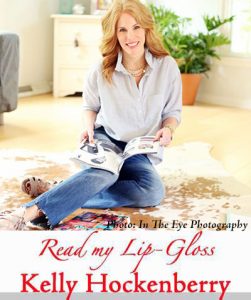 The weather is finally cooperating just in time for my October edition of the Super Six! After that recent stretch of temps in the high 80's I was beginning to think that fall would never arrive.
Maybe it has to do with fond childhood memories of back to school shopping or perhaps it's the close proximity of the holidays, but I am in the mood for some new stuff (cue the husband wincing). This list came rather effortlessly…I hope you enjoy!
Ava & Aiden Kely Suede Booties – I have been on a serious mission to find the perfect black boot. I wanted a heel (but not too high that I couldn't wear them all day). I wanted them to have some sort of interesting detail (without being overly dressy). I didn't want to spend a ton of money. HOORAY for

www.gilt.com

and these Chloe look-alike scallopedbeauties! They are EXACTLY what I was picturing. And, if you enter code GIMME15, they are 15% off the regular price of $129. Woo hoo! Click here:

http://gi.lt/2wpb12P
Roasted Red Pepper & Tomato Soup – When the temperature dips below 65 degrees, two things are sure to happen: 1.) I wear UGGS and my fuzzy bathrobe as much as possible and 2.) I make soup. Honestly, is there anything better on a chilly evening than a bowl of steaming hot soup and a side of gooey grilled cheese? I don't think so. I stumbled across this delicious recipe and can't wait to make it (although, in the spirit of complete honesty, I will probably be purchasing a jar of roasted peppers instead of making them myself). Click here to get the ingredients:

http://bit.ly/2wqC4ei

Bare Minerals BAREPRO Foundation – I had another "a ha!" moment at Houppette a few days ago. For far too long, I have been using a powder foundation that was making my face look dry and wasn't evening out the redness of my skin. Thankfully, Bare Minerals has recently debuted a line of liquid foundation that promises 24 hour, breathable coverage with a matte finish. Infused with bamboo and papaya extract, the formulation actually improves the texture of your skin over time. Plus, it has SPF 20 so it protects against the harmful rays of the sun (which, we need to be concerned about all year long). The girls at Houppette helped me find the correct shade and the results were amazing. I'm a convert. Stop in to Houppette at 101 W. State Street and ask for help! They are our local, beauty experts.
Urban Outfitters Wall Art – I am a sucker for interesting artwork. For example,

 

I have an antique wood saw hanging in my living room and a large barn door in my dining room. They are conversation starters as well as fun, home decor. So, I have been on the lookout for something cool for over my fireplace and I think this print is awesome. It goes without saying that the song is legendary…and it adds the perfect punch of whimsy. Click here :

http://bit.ly/2fZ3Zfd
Love Your Melon Beanie – A pom-pom hat is a cold weather, must-have, fashion item.
And, if you can help fight pediatric cancer with your purchase, it's even more of a necessity. Love Your Melon started was created by two friends as part of an entrepreneurship class at University of St. Thomas in St. Paul, Minnesota. Their mission was to put a hat on every child battling cancer in America. After achieving that goal (over 45,000 hats) they set a new bar of donating 1 million dollars to pediatric cancer research. To date, they have already given 2.6 million. Fifty percent of the profit from the sale of these hats goes to continuing the fight against pediatric cancer. You can get yours right here in Kennett at No.109 Shop located at 109 W. State Street.
Gucci Belt – I always have to add at least one fantasy splurge to my Super Six.
Spending over three hundred dollars on a skinny leather belt qualifies as a wishlist item, in my book. Although, I will say that I think this accessory will stand the test of time. It's classic and well made and just SO DANG PRETTY. Ugh. OK, I'm done now. Click here if you are feeling lucky: http://on.gucci.com/2xHmUFv
There you have it! As always, please feel free to add to the Comment Section below.
Happy Weekend