By Kelly Hockenberry, Columnist, The Times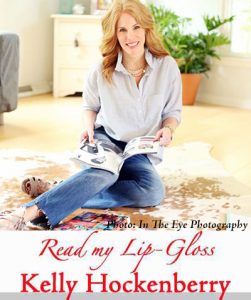 Of course, as a self-proclaimed fashionista, I watched the Emmy Awards last weekend. Well, that's not exactly true. I focused my efforts primarily on the red carpet footage (which is what matters, in my book). Honestly,  I had barely seen a quarter of the shows vying for accolades. It's 99% about the couture for me. The dress (or tux), hair, make-up, shoes…I love all of it. The good and the bad. Speaking of bad, what was with this year's tea-length trend? Sorry, that gets a big, huge, "NO". Not a fan.
Overall, I was reasonably satisfied with the choices of some of my favorite celebrities…but, no one knocked my socks off…until I saw Jane Fonda.
Jane Fonda is going to be eighty in a few months, people. 8-0. Look at this, please: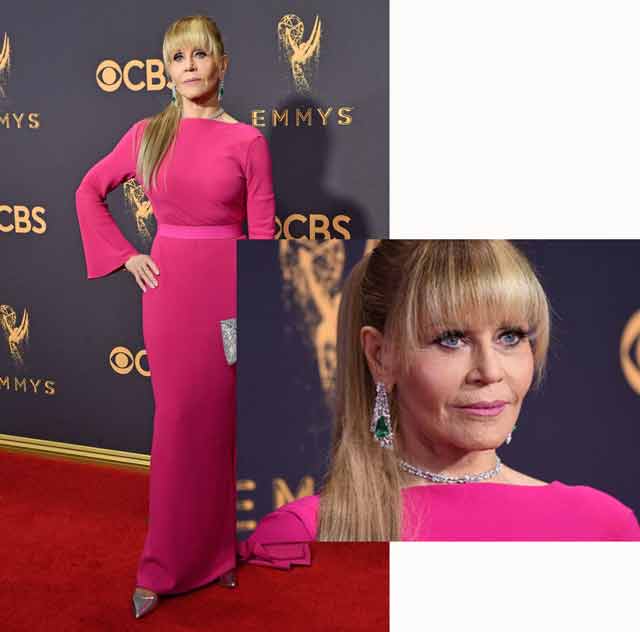 Woah. The aftermath of Jane hitting the carpet in a hot pink, body conscious gown, long ponytail and bold bang was a media firestorm akin to her stint in the 70's! OK, so maybe I'm being a bit dramatic. But, it did get a lot of buzz. Mainly the criticism seemed to focus on how she was "trying too hard to look young".
OUCH.
She certainly does not look like your run-of-the-mill 80 year old woman, that's for sure. Which begs the question "when should you start looking/dressing your age?"
Because, heaven knows, I have a long list of girlfriends (with my name on the leaderboard) who are desperate to turn back the hands of time. Chronological digits be damned. Just the other day, I had an in depth conversation with two of my besties about what surgical procedures are on our wishlist. And, that list was looooooooong (and incredibly expensive, unfortunately).
As for fashion, don't even try to tell me that I can't have shoulder length tresses or shop at Forever 21. Because, I'm not listening to you.
I live in distressed jeans. I'm sporting the new, cool, platform oxford shoes. I'd love to try tape in hair extensions (but, it will never happen). I have fantasies about microdermabrasion, CO2 treatments, and laser resurfacing.
So what?
If you subscribe to the nonsensical opinions of those who believe that women middle age and beyond can't be sexy or provocative….ppsssh. No, that's not a typo. That's me conveying that I think that philosophy is a whole lotta malarky (which, by using that word, should give you a good indication of how ancient I truly am).
I say, embrace your inner octogenarian. If you feel young on the inside, it will project on the outside. And, that, my friends, is the key to aging gracefully. Kudos, Jane Fonda.
What do you think? Leave your comments in the section below.
Happy Weekend