By Denny Dyroff, Staff Writer, The Times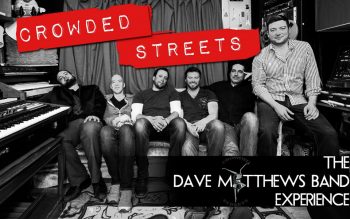 For a musician, playing the same songs on stage over and over again for years can become boring – even for an established band with several top hits.
Imagine what it's like for members of long-time cover bands who have to play someone else's songs over and over again. The rut becomes even deeper.
Crowded Streets, headliners at Kennett Flash (102 Sycamore Alley, Kennett Square, 484-732-8295, http://www.kennettflash.org) on August 5, is a cover band that does not have that problem.
Crowded Streets was formed in 2006 to cover one of the most popular artists of the 1990's — The Dave Matthews Band.
What makes Crowded Streets stand apart from other DMB tribute attempts is that every member has the performance experience, talent and stage appeal needed to stand in for his DMB counterpart.
Crowded Streets — Gabe Matthews, Lead Vocals/Acoustic Guitar;
Jamie Lapihuska, Violin/Vocals; Eli Gonzalez, Saxophone/Flute & Vocals; Mike Tony Echols, Bass/Vocals; Jason Quattro, Electric Guitar; Rick Hodes, Drums — extends DMB's legacy through a multi-dimensional approach — faithfully recreating their timeless music while also reinventing it with interpretive jams.
"It's been over m10 years in the making," said Quattro, during a phone interview Wednesday from the Virginia suburb of Washington, D.C.
"The band was started by Gabe Matthews. He's a big fan of Dave Matthews. Over the last few years, the bands has taken in some of the best players in the DMV (D.C./Maryland/Virginia) area. It was a fun project at first. Now, it's a main project."
The Crowded Streets rhythm section trades off in DMB's trademark syncopated counterpoint. As the battery that powers the band's contagious live jam chemistry, the Carter Beauford and Stefan Lessard of the group finish each other's sentences in powerful rhythm and soulful conversation.
In between providing rich vocal harmonies, the violinist and saxophonist also seem to converse on stage, quoting Boyd Tinsely's, Jeff Coffin's and the late LeRoi Moore's more recognizable licks during their solos while weaving in their own improvisational vocabulary they both have developed over a lifetime of performing.
Gabe Matthews is the focal point of the band. Drawing from years of experience on stage, his ability to emulate Dave's vocals and stage presence is uncanny. When the spirit takes him, Gabe treats audience members to his spot-on renditions of Dave's signature footwork and anecdotal stage chatter—all adding to the authenticity of the performance.
"We're not trying to appear like them – to look like them," said Quattro. "We want to sound like them. We want to be authentic to the songs. If you don't do it right, you can get some strange looks from the crowds.
"You can get really burned out fast just playing a part. What's nice is that there is definitely room for improvisation. It's Dave Matthews music but there is plenty of room to make it your own. "Some parts you have to play note-for-note. Other times, there is a lot of room for us to improvise and let loose. It's definitely a balance.
"Dave Matthews' catalog is so extensive that you rarely get burned out. He has a deep catalog of songs that we can draw from. With our live shows, some people want to hear the hits and some love the deep tracks. We can make them both happy."
Video link for Crowded Streets – https://youtu.be/LIm_bpUKKV0.
The show at Kennett Flash will start at 8 p.m. Tickets are $18-$22.
It's always nice to get away to the mountains on a hot summer weekend.
This weekend, area music fans don't have to travel to the mountains, the mountains are coming their way.
Actually, mountain music is coming their way when Sinners & Saints perform on August 5 at Boxcar Brewing Company (142 East Market Street, West Chester, 484-947-2503, www.boxcarbrewingcompany.com).
Whether you need a friend to laugh with or a friend to cry with, Sinners & Saints — singer-songwriter Perry Fowler on acoustic guitar and harmonica and Mark Baran on upright bass, banjo and harmonies — has what you're looking for.
The duo from Charlotte, North Carolina is equally adept at crooning about heartbreak or tearing it up with joyful abandon.
Fowler and Baran infuse their acoustic, country-tinged tunes with compelling harmonies and foot-powered percussion on repurposed drums from an abandoned kit.
Since the band's formation in 2011, Sinners & Saints has been amassing a legion of fans who turn to their whiskey drinking, shit-kickin', sweet-loving music for a good time but find something more — an irrepressible optimism even in dark times.
"We're getting ready to do a tour of the East Coast and the Midwest," said Fowler, during a phone interview Tuesday morning.
"I'm here at my bar getting myself ready. I own a music club in Charlotte called Petra's. I've had it for a couple years. It was gifted to me by the previous owner.
"Sinners & Saints has been together since the early part of 2011. We met at one of my solo shows in Charlotte. Mark was in another band at the time – the Buck Mountain Stranglers. He came to me and said – if you ever need a bass player, hit me up. At the time, I was playing acoustic guitar along with a stomp box.
"When we finally got together, it clicked immediately. We clicked musically. And, we both got along. Neither of us is crazy in the head. And, he sings great harmonies.
"The songwriting is still mostly me but he's a good songwriter too. We're starting to write some songs together. When I'm writing a dong, sometimes I'll have a melody in my head and then figure out the lyrics based on the melody. Sometimes, it's a chord progression and I get a melody off of that."
Sinners & Saints has released two EPs and two full-length albums.
The two veteran musicians released their second full-length album, "On The Other Side," in early 2017, in partnership with Silent Uproar Records.
"We did the first EP in 2011 and the first full-length in 2013," said Fowler. "In 2015, we recorded the 'This Ain't No Country Song' EP with Elonzo Wesley. Our new album came out in March this year.
"We started recording 'On The Other Side' last summer when we had the time. We got into the studio whenever we weren't on tour. We recorded it with producer Doug Williams at ElectroMagnetic Radiation Recorders in Winston-Salem, North Carolina.
"We've known Doug for a while and the studio has a lot of cool gear. It's all analog so it sounds really warm. We set up live in the studio for the instruments and then tracked over the vocals.
"We call our music 'mountain music.' We use the chord structures of a lot of Appalachian music but we're not bluegrass. We're just two guys playing mountain music."
Video link for Sinners and Saints – https://youtu.be/3IpctAISNG4.
The show at Boxcar, which also features Thantophobe, Wanderer & Lukey Floz, will start at 9 p.m. Tickets are $15 for the show, which is billed as "Rock for A Reason — A night of rock and roll benefiting the Casey Cares Foundation."
Just as Nine Inch Nails is Trent Reznor and Dashboard Confessional is Chris Carrabba, The Rocket Summer is Bryce Avary.
The Rocket Summer, which is headlining a show on August 5 at The Foundry at the Fillmore Philadelphia (1100 Canal Street, Philadelphia, 215-309-0150, www.thefillmorephilly.com), hasalways been Avary's band with the Texas musician as front man, songwriter and multi-instrumentalist.
Avary released his debut album "Calendar Days" in 2003 and followed with "Hello, Good Friend" (2005), "Do You Feel" (2007), "Of Men and Angels" (2010), "Life Will Write The Words" (2012) and "Zoetic" (2016).
The Rocket Summer's sixth album, "Zoetic," marked a creative milestone for Avary. According to Avary, "'It's the most alive music I've ever made. I think that's why it sounds a bit different — because it's raw, creative expression with zero rules."
But, "Zoetic" will not be Avary's main focus on this tour. This outing is the "Do You Feel 10 Year Anniversary Tour."
The Rocket Summer's vinyl release for the 10-year anniversary of "Do You Feel" immediately charted in the Top 20 on the Billboard Vinyl Albums Chart.
"We're celebrating the 10th anniversary of the 'Do You Feel" album," said Avary, during a phone interview Wednesday from a tour stop in New York City.
"That record was a pretty pivotal record in the discography. It brought a lot of people into the community."
In November 2006, Avary signed with major record label Island Def Jam Records. The "Do You Feel" album was released in July 2007 and reached No. 44 on the Billboard 200 and No. 16 on the Billboard Top Rock Albums charts.
The album's lead single was "So Much Love." The Rocket Summer released the second single "Do You Feel" and its music video in September 2008. The video featured stories of people with issues such as homelessness, addiction, disease and abuse.
"I wanted to celebrate the 10th anniversary but putting the album out on vinyl," said Avary. "I got permission from Island – but it took a while. They have the rights but we worked out a deal to put it out on vinyl.
"We pressed the album on purple vinyl and on white vinyl. The purple was only available with a meet-and-greet package. We pressed 2000 altogether. The purple is gone and there are only about 200 of the white left.
"It was cool re-learning all the songs. Playing live, I know every detail of every track. We went back and honed in on everything. For the mostg part, it's really spot on.
"We recorded the whole album on tape – destructive mode…. not at all like ProTools. Recording to tape made the drums sound very warm. But, using tape is very expensive – and very time-consuming."
On this tour, Avary is giving fans the full experience of "Do You Feel."
"We play the whole album front-to-back – with some little surprises in there," said Avary. "I enjoy keeping people on their toes. The first set is the album. In the second set, which is also one hour, I play songs from all six albums along with some new stuff."
Video link for The Rocket Summer —https://youtu.be/mrP9SrMJ00c.
The all-ages show at the Foundry, which also features Active Bird Community, will start at 7:30 p.m. Tickets are $17.
Over the last month-and-a-half, Nalani & Sarina have played several shows at a variety of nearby venues in Wilmington and northern Delaware.
This weekend, the musical 24-year-old siblings from central New Jersey are zeroing in on downtown Philadelphia. On August 5, Nalani & Sarina will perform at Boot and Saddle (1131 South Broad Street, Philadelphia, 215-639-4528, www.bootandsaddlephilly.com).
On August 6, the identical twins will headline the Future Stars Showcase at the World Café Live (3025 Walnut Street, Philadelphia, 215-222-1400, www.worldcafelive.com).
Sunday's all-ages show, which is an Elena Brokus Production, will feature a variety of "rising stars," including Pariadin, Hemispheres, The Fridays, Maria Leonetti, The Soundcheck, Casual Friday, Cathryn Manning and Valerie West.
Nalani & Sarina have been building a huge fan base in the Mid-Atlantic region for the last five years. The duo has performed at a variety of venues around the area — including Kennett Flash, the Eagleview Concert Series in Exton, World Café Live at the Queen, and the Ladybug Festival.
The highly-talented twins have already established themselves as top-flight vocalists, songwriters, and multi-instrumentalists.
"We've been working in the studio a lot lately," said Sarina Bolton. "We've been recording a lot. We're taking a pretty relaxed approach — doing it piece-by-piece…song-by-song.
"There are no deadlines and that makes it a lot less stressful. We've been recording at Carriage House Studio in Stamford, Connecticut and at the home studio in Wayne (PA) or our engineer Julian Herzfeld.
"With the songwriting, we had a new approach this time. The songs on our last album were based on personal experiences. This time, it's other people's stories — more of a world-wide approach.
"It's a combination of first person and third person. We're writing about people our age – observing other people's stories. It's like a story about kids' lives from their early to late 20s – love, first relationships, work.
"The songs are about what life is like for people our age. But, people of all ages can relate to these songs. We've had older people tell us that they can identify with these songs."
With roots based in rhythm-and-blues, soul, rock and especially funk, the sisters create vocal harmonies that only twins can make.
"We're identical twins," said Nalani. "We graduated early from Hunterdon Central High a few years ago and we've been doing music ever since. We both started playing classical piano when were six and then studied operatic vocals when we were in sixth grade.
"Classical music and opera provided good basics for us. Our mom was a folkie so we listened to a lot of folk music when we were young — great songwriters like Leonard Cohen and Bob Dylan. And, we've listened to a lot of classic rock.
"We always have the funk. It's impossible for us to keep the funk out. We've always had funk in our blood. We play shows with just the two of us, it always sounds more singer-songwriter. When we do shows with our band, it gets more funky."
Video link for Nalani & Sarina – https://youtu.be/OMe0lVy6eMM.
The August 5 show at Boot and Saddle, which also features Evan Wize, will start at 9 p.m. Tickets are $12. The August 6 show at the World Café Live will run from 2-7 p.m. Tickets are $10.
Nashville has been a destination for country musicians for years and years. About 20 years ago, displaced rock bands from the 70s found a home in Nashville.
In recent years, Nashville has become a Mecca for sensitive singer-songwriters – especially Berklee College of Music grads heading south from Boston.
Tennessee's Music City also welcome another type of transplants – the alt-rock/indie band Future Thieves. The band features lead singer Elliot Collett, guitarist Austin McCool, bassist Nick Goss and drummer Gianni Gibson.
Future Thieves have released two albums since 2105 and are currently out on a national tour – a tour that brings them to the area for a show August 6 at the World Café Live (3025 Walnut Street, Philadelphia, 215-222-1400, www.worldcafelive.com).
"I'm from eastern Kentucky and Gianni is from L.A.," said Collett, during a recent phone interview from his home in Nashville.
"The other two are from Indiana and they've lived in Nashville for five years. I met them when we worked at a country club together – the Hillwood Country Club.
"Our different bands had disbanded so we started playing together doing shows at local clubs. We started playing together three years ago. Our first gig was about two months after we started at The Basement in Nashville."
McCool and Goss grew up as friends in Evansville, Indiana, and went to Purdue University together. Four years ago, after graduation, McCool moved with his band at the time to Nashville and Austin.
Collett got to know McCool and Austin and joined their search for a perfect drummer. They found him in Gibson, whose journey began in his hometown of Los Angeles. He eventually spent time in London before deciding to check out what was going on in Nashville.
They began by learning some songs that Collett had written while spending a few months in L.A. and then started jamming out some new stuff. About a month later, they had enough songs to play a 30-minute set at The Basement.
"Ryan Adams has been a big influence on our music," said Collett. "But, we have our own sound. We describe it as rock-pop-dance-love.
"We made our first EP when we first started but we don't count it anymore. We recorded our first album about a year after we started. 'Horizon Line' came out in October 2015.
"Our new album 'Live at Blue Rock' has 12 songs that were done as a live steam at Blue Rock, a huge studio compound in Wimberley, Texas.
"We were only there to do as live stream. But, they recorded it so we decided to put it out. We also added a couple unreleased songs. It's all live."
Now, Future Thieves are looking ahead to their next album.
"We played SXSW this year and then went to record at Sonic Ranch in Texas in March 2017," said Collett.
"We stayed there two weeks and recorded 85 per cent of the record there. Now, we're finishing up the record at my studio in Tennessee.
"The new material is a great improvement. We cleaned up a little to get away from the heavy guitar and we've added more keyboards to create more space. And, we're getting better at songwriting."
Video link for Future Thieves — https://youtu.be/q22qP_0b3-I
The show at World Café Live, which also features Darlingtyn and Dino Petaccio & The Intruders, will start at 8 p.m. Tickets are $14.
Brynn Elliott will only have a short set when she plays Fillmore Philadelphia (1100 Canal Street, Philadelphia, 215-309-0150, www.thefillmorephilly.com) on August 6.
That is the fate of an opening act and Elliott is opening for a pair of headline acts – Lifehouse and Switchfoot, who are out on their "Looking for Summer Tour."
"The tour is 31 dates altogether," said Elliott, during a phone interview Thursday from a tour stop in New Hampshire. "I get to open with a 30-minute set."
In addition to being a full-time recording artist, Elliott is heading into her senior year at Harvard University majoring in philosophy.
Usually, Elliot balances her studies and music opportunities throughout the academic year and then goes on tour during the summer and school breaks.
The last time she played locally was two years ago as one of the opening acts on O.A.R.'s "The Back to Rockville Tour" — a six-week national tour that played Festival Pier at Penn's Landing.
"I learned a lot from the O.A.R. tour," said Elliott. "I've done a lot of recording since then. My new songs are definitely more pop-rock.
"I did writing in Nashville with Nathan Chapman (a producer known for his work with Taylor Swift) and Kevin Gates. They are really amazing writers.
"My single 'Might Not Like Me' is more like ma pop-rock song. And, I just released a new single – 'Psycho Stupid Crazy' – five days ago."
Elliott got into music almost by accident.
"When I was about 15, I was involved in sports at school but I was looking for hobbies," said Elliott, who grew up in suburban Atlanta.
"My dad had an old guitar that he never played so I started playing it. I just taught myself how to play the guitar and learned covers. It was just something to help me decompress after a long day of school and sports."
Ironically, her sports career introduced her to Chester County years ago.
"I played basketball in high school and I also competed in equestrian sports — jumper class," said Elliott. "When I was growing up, I came up to Pennsylvania every year to compete at the Devon Horse Show.
"When I was applying to colleges and they asked about extracurricular activities, I wrote about my music activities and put my lyrics on the applications."
Two weeks before heading off to college, Elliott was invited by to spend a year in Portland, Oregon to write and record with Clif Magness, a Grammy-winning songwriter/producer who is known for his work with such artists as Avril Lavigne, Kelly Clarkson and Clay Aiken.
So, she decided to postpone her education to take advantage of this once-in-a-lifetime opportunity. The result of that decision was Elliott's simultaneously-released EPs "Notions of Love" and "Notions of Youth."
"I did nine months of recording out in Oregon," said Elliott. "I did about 15 songs there. It was a year of writing and recording. It was also a year of finding my musical influences — like Paul Simon. From there, I found my own musical style."
Elliott she has already built a solid repertoire of well-crafted songs.
"I'm studying philosophy major and that's an influence on my writing," said Elliott. "In the beginning, I was very protective of my songs lyrically. I didn't want to write about breakups because I never had them.
"Last year in college, I had a major breakup and thought about writing a song about it. That's where the song 'Might Not Like Me' came from.
"With my songwriting, I definitely like to start with a question or an idea more than a story. I want something I can develop. It's about pondering questions – where is your heart?…where are you at?
"I was in the studio in Nashville before this tour. I don't know what will come out of it – an EP or a full-length. I have no set plans at this point."
Video link for Brynn Elliott — https://youtu.be/4M6L3jcljYw
The show at Festival Pier featuring O.A.R., Elliott and Allen Stone will start at 6:30 p.m. Tickets are $35.
The headliners of the August 6 show at the Sellersville Theater (24 West Temple Avenue, Sellersville, 215-257-5808, www.st94.com) have a very unusual name — Socks in the Frying Pan.
Socks in the Frying Pan – Aodán Coyne on guitar and vocals and the accomplished Hayes brothers, Shane Hayes on accordion and Fiachra Hayes on fiddle & banjo — is an award-winning trio from Ennis, Ireland.
"I could tell you where our name came from – but then we'd have to hunt you down and kill you," said Hayes, during a phone interview Wednesday from a tour stop in Buffalo, New York.
That being said, you'll have to unearth the origin of the name on your own.
Having gained a fanbase from four years of gigging around the west of Ireland, Socks in the Frying Pan recently started branching out and have been well-received internationally for the band's modern traditional style and energetic approach to music.
The trio's dynamic vocal harmonies, virtuosic musical ability and onstage wit have captivated audiences the world around.
Socks in the Frying Pan has become one of the most sought-after groups in Irish music today. The trio's lively music has gained them critical acclaim and accolades including New Band of The Year by the Irish Music Association.
"We started playing together eighth years ago just for fun," said Coyne. "We played a few years in pubs and honed our sound. We made an album and it got in the right hands.
"When we made the album, I was still in high school," said Coyne and the two others were in the university. After we made the album, we started playing more gigs. We learned a lot from other bands."
Their 2015 sophomore release "The Return of the Giant Sock Monsters from Outer Space" continued the rave reviews generated with their 2013 debut, with the Irish American News saying, "This is a great album by three extremely talented young artists.  It has been a while since we have enjoyed a new group as much as this."
In 2016, the band released "Without A Paddle" to coincide with its 2016 U.S. summer/fall tour, which commenced late July and through mid-September and included performances at some of the biggest Celtic and Irish festivals in the U.S. and a number of club shows.
"We recorded our third album in a studio in County Kerry," said Hayes. "We did it at Sonas Studio in Killarney with Atony O'Flaherty, who is a great engineer. We just set up and played live in the studio.
"We have a few originals that were written by Aodan. We also reworked music from old Irish traditional songs. It's nice to have originals but it's also good to offer respect to tradition."
Video link for Socks in the Frying Pan – https://youtu.be/q4PHnAHWZno.
The show at Sellersville will start at 7:30 p.m. Tickets are $19.50 and $29.50.
How many of the following songs are you familiar with? – "Happy Together," "Windy," "She's My Girl," "Cherish," "Joy to the World," "She's Rather Be with Me," "Shambala," "Hair," "Never My Love," "The Letter," "Cry like a Baby," "The Rain, the Park, and Other Things (Flower Girl)," "Sugar Sugar" and "One."
You can hear all of them performed live by the artists who originally recorded them on August 7 when the "Happy Together Tour" visits The Playhouse on Rodney Square (1007 North Market Street, Wilmington, Delaware, 302-888-0200, www.ThePlayhouseDE.org).
The "Happy Together Tour" features six celebrated bands and artists from the 1960s and 1970s — the Turtles featuring Flo & Eddie, the Association, Chuck Negron from Three Dog Night, the Cowsills, the Box Tops, and The Archies featuring Ron Dante.
The show is a musical tribute to the Flower Power era. Altogether, the musicians on this show have accounted for 53 Billboard Top 40 hits
This summer tour, now in its eighth year, has been wowing audiences and selling out across the country. Each year, it is organized and mobilized by Mark Volman and Howard Kaylan – a.k.a. Flo & Eddie.
"We did two 'Hippiefest' tours a while ago and they did well," said Volman, during a phone interview last week from a tour stop in San Diego, California. "A few years ago, we began a similar tour package with the 'Happy Together Tour.'
"There is a combination of elements. It starts with a 'wish list' from Howard and me – figuring out a good group of bands to tour with all summer. We've lost a few of the great ones to death but we're still able to put together a good show.
"We try to put together a line-up that is diverse and complementary. This year proved an interesting point wirth groups from all over.
"The Box Tops are from Memphis. The Cowsills are from New Hampshire. We have bands from the West Coast and chuck Negron is from New York. This represents a lot of diversity in American music.
"Our show is mostly a salute to the Turtles' biggest hits. We tried to do something with this tour – to stick to the biggest hits and still throw in some humor. There are 30 songs — no extra tracks or B-sides. 'Happy Together' is still the most recognizable."
It's hard to find couples who have been married for more than 50 years but it's a safe bet that those you find will say that they are happy together.
It's even harder to find a musical act that has been together for over 50 years. And, it's really hard to find musicians who have been with each other for over four decades and still claim to be happy together.
One of those hard-to-find musical gems Volman-Kaylan duo.
In the mid-1960s, Volman and Kaylan joined with several of their friends in Westchester (a suburb of Los Angeles) to form the band the Turtles.
Now, more than 50 years later, Volman and Kaylan are still performing as the Turtles and are — like the title of one of the band's biggest hits — still "Happy Together".
The Turtles burst on the scene in 1965 when their version of Bob Dylan's "It Ain't Me Babe" became a hit single. They followed with two more hits that year — "Let Me Be" and "You Baby"'. Over the years, Volman and Kaylan remained the two constants in the Turtles as the band continued to rack up more hits — classics such as "Happy Together", "She'd Rather Be With Me'", "She's My Girl", "Elenore" and "You Showed Me".
The Byrds and the Turtles were the first bands to do rock versions of Dylan songs. When the original Turtles faded away, Volman and Kaylan joined Frank Zappa's Mothers of Invention as The Phlorescent Leech & Eddie and then later recorded a number of albums on their own as Flo & Eddie.
The pair's vocal skills also kept them busy as recording session backup singers for many of the top names in rock, including T.Rex, John Lennon & Yoko Ono, Stephen Stills, Ringo Starr,  David Cassidy, Alice Cooper, Blondie, Bruce Springsteen, Al Stewart, The Knack, Livingston Taylor, Psychedelic Furs, Darlene Love, Jefferson Airplane and Duran Duran.
The talented and versatile singers also provided the voices for four Strawberry Shortcake albums and four albums by The Care Bears. When the Turtles perform live now, their show covers all facets of their long and illustrious career.
"The band that we have now has been with us a really long," said Volman. "People talk about whether different classic rock acts are legitimate and there are a lot of views on the topic. You have to look at different things – for example, is the spirit of Canned Heat enough without Bob Hite or Al Wilson?
"For the die-hard fans – the ones who were the collectors – as more of their favorite musicians die, they'll have less and less to enjoy. You can't bring Janis Joplin or Bob Hite back from the dead."
Fortunately for fans of the Turtles' music, there is no identity problem. Volman and Kaylan basically were the Turtles – the band's main songwriters and two front vocalists. What you heard back in the 1960s is what you'll hear this week in Wilmington.
"Back then, we weren't making music for the collectors – we were making music for the people," said Volman, who is also a professor of music at Belmont University in Nashville. "We're still making music for the people."
Video link for the Turtles – https://youtu.be/ad-2J9spLdo.
The show at Grand will start at 8 p.m. Tickets prices range from $51-$70.