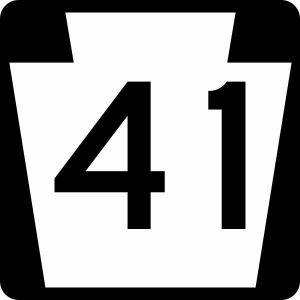 The Wolf Administration announced today that construction is scheduled to begin on Sunday, July 9, on a project to improve travel and safety at the intersection of Route 41 (Gap Newport Pike) and Newark Road in New Garden Township, Chester County. The project is scheduled to be completed in spring 2018.
"This project is a prime example of how the state is allocating funding to address the increasing need for better mobility and safety on our roadways," Gov. Tom Wolf said. "Improvements made at this intersection and thousands of others around the state will not only benefit drivers, pedestrians and cyclists, but our local economy as well."
Under this intersection improvement project, PennDOT will widen the travel lanes; resurface the intersection; add left turn lanes; remove right turn lanes on Newark Road to improve safety; upgrade the existing traffic signal; install a new crosswalk, pedestrian push buttons and ADA curb ramps; and install new guiderail, drainage and stormwater management features.
During construction, there will be periodic lane restrictions on Route 41 (Gap Newport Pike) and Newark Road during off-peak travel times. The work schedule is:
Sunday, July 9, from 6:00 PM to 6:00 AM, and Monday, July 10, from 9:00 AM to 3:00 PM, lane restrictions with flagging are scheduled on Newark Road between Route 41 (Gap Newport Pike) and Buck Toe Road for milling and paving operations.
All scheduled activities are weather dependent. Motorists are advised to allow extra time when traveling near the work area because backups and delays may occur.
Allan A. Myers, Inc. of Worcester, Montgomery County is the general contractor on the $1,405,777 project which is financed with 80 percent federal and 20 percent state funds.
A list of weekly road restrictions and PennDOT maintenance operations in the five-county Philadelphia region is available by visiting the District 6 Traffic Bulletin at www.penndot.gov/District6.
For more information on projects occurring or being bid this year, those made possible by or accelerated by Act 89, or those on the department's Four and Twelve Year Plans, visit www.projects.penndot.gov.