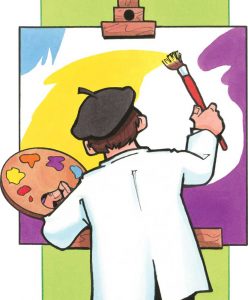 LANCASTER — U.S. Rep. Lloyd Smucker (PA-16) has announced the 2017 Congressional Art Competition for Pennsylvania's 16th Congressional District.
"I'm thrilled that I have opportunity to showcase the artistic ability of students in our communities," said Rep. Smucker. "The winner of the competition will have their artwork displayed in the U.S. Capitol for all members, staff, and visitors to view throughout the year. I encourage students to submit their artwork, and I look forward to seeing all the submissions."
Artwork must be two-dimensional. Each framed artwork can be no longer than 26 inches high, 26 inches wide, 4 inches deep, and should weigh no more than 15 pounds.
Accepted mediums for the competition are:
Paintings: oil, acrylics, watercolor, etc.
Drawings: colored pencil, pencil, ink, marker, pastels, charcoal (it is recommended that charcoal and pastel drawings be fixed)
Collages: must be two dimensional
Prints: lithographs, silkscreen, block prints
Mixed media: use of more than two mediums
Computer-generated art
Photographs
All artwork must be delivered to Rep. Smucker's Lancaster office, located at 51 South Duke Street, Suite 201, Lancaster, PA 17602, by April 26th, 2017. More information about the 2017 Congressional Art Competition, as well as the application, can be found here.
Three winners will be selected:
First place: Artwork hung in hallway from Cannon House Office Building to U.S. Capitol Building
Second place: Artwork hung in Rep. Smucker's Lancaster office
Third place: Artwork hung in Rep. Smucker's Washington office
If students have questions, they can contact Nick Cammauf at (717) 393-0667.