Pair of singer/songwriter to pair up for benefit at Chaplins, Friday
By Denny Dyroff, Staff Writer, The Times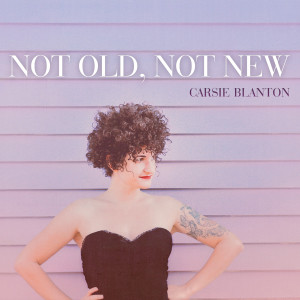 Carsie Blanton, who is performing July 19 at the Ardmore Music Hall, is a talented singer-songwriter whose music spans a variety of genres. She is also adaptable when it comes to finding a place to call home.
Blanton grew up in the Blue Ridge Mountain area in Virginia, moved to Oregon when she was 16 and relocated to Philadelphia five years later. Now, she has established residence in New Orleans.
"I was 21 when I moved to Philly," said Blanton, during a recent phone interview from a tour stop in Minneapolis. "I had a fun and pretty easy time there. I still love Philly."
Blanton released her debut album "Hush" in 2002 and followed with "Ain't So Green" in 2009 and the "Beau" EP in 2010. Her next LP was "Idiot Heart" in 2012. Her latest album is "Not Old, Not New," which was released earlier this year.
"I made the new album last year in New Orleans, where I'm now living," said Blanton, who toured not long ago with Anais Mitchell's "Hadestown: A Folk Opera"  playing the role of Head Fate.
"I like living in New Orleans. There is a slower pace of life which is more conducive to my writing. Everything is slower down there."
Things may have been slower for the most part but fans' reactions to Blanton's anticipated new disc definitely were not slower. It was just the opposite.
"My new album was funded by a Kickstarter campaign last August," said Blanton, who opened for Paul Simon on his "So Beautiful or So What" tour a few years ago.
"I needed to raise $29,000 and I finished with a little more than $50,000. I was a little nervous going in. But, it picked up its own momentum.
"I did one week in the studio with a full band and then a couple days of overdubbing. Mixing it took a long time. I finished it at Cambridge Sound in Philly with (producer/engineer) Jim Salamone."
While Blanton has a large repertoire of her own songs from which to draw, she chose a different route for the new album.
"This album is all covers," said Blanton. "It's just my take on my favorite jazz songs from the 1930s and 1940s.
The album opens with Duke Ellington's "Azalea" followed by "I'll Be Seeing You", a song with music by Sammy Fain and lyrics by Irving Kahal that was popular in 1938.
The disc also features Jake Little/Joe Young's "You're A Heavenly Thing," Cole Porter's "Laziest Gal In Town," and "Not Old, Not New," a 45-second song composed by Blanton.
"This is a project that I wanted to do for years," said Blanton. "I love that music. And, I love those great songs — songs I want to share with people. I've released four original LPs and a couple EPs so it was an O.K. time to do a covers album. And, I had access to a lot of great musicians in New Orleans."
Tickets are $15 and $20 for Blanton's 8 p.m. show at the Ardmore Music Hall (23 East Lancaster Avenue, Ardmore, 610-649-8389, www.ardmoremusic.com).
Other upcoming shows at the venue are "The THE BAND Band" on July 18, "Odyssey Road: A Tribute to Journey" on July 20, Melvin Seals and JGB on July 21 and Patrizio on July 23.
Reggie Harris, who usually performs with his wife as Kim and Reggie, is one of the top singer-songwriters to come out of Philadelphia. Bernard "B.J." Sarkissian, whose songs address the human potential in all of us, is also a local singer-songwriter.
The two singer-songwriters will perform Friday with Charlie Phillips at Chaplin's (66 North Main Street, Spring City, 610-792-4110, http://chaplinslive.com) in an in-the-round benefit concert for "Children on the Border, Central American  Refugee Crisis."
"Bernard and I have been corresponding on Facebook since we found out that we had the same doctor for our liver transplants," said Harris, during a phone interview Wednesday as he was heading to a recording studio in Woodstock, New York.
"I've wanted to perform with him for a while. And, I've heard of Charlie but never have played with him. Actually, none of us have ever even met before. Bernard and I have a visceral connection with the same surgeon laying hands on us.
"I usually perform with my wife Kim Harris. Our last album 'Resurrection Day', which came out in 2012, was about my experience with a liver transplant. I had sclerosing cholangitis, which is really rare auto-immune illness that causes the immune system to attack the bile ducts.
"It was a 13-year struggle for me. Finally, the doctors told me I had one-and-one-half weeks to live. Four days later, they found a liver donor — a 43-year-old man from Delaware who had just died. I was blessed to receive a liver at the last moment."
When the opportunity arose for Harris to perform a benefit for other people who are in need of help, he immediately seized it.
"As we saw things developing with these immigrant children, it really hit me that we're a country that is supposed to have compassion for the world," said Harris, who (along with his wife) has been acclaimed for contributions to the resources and knowledge base on the Underground Railroad and the modern civil rights movement.
"So, we decided to do a benefit. The immigration issue is very complex and our political leaders need to be putting their differences aside. Things like these benefits fill my heart with hope. On a personal level, we can do events and make people aware."
Even though Harris, Sarkissian and Phillips will be strangers in the night at Chaplin's, Harris expects a smooth in-the-round performance.
"Much of what I do is collaboration — getting people singing," said Harris. "The three of us will talk before the show and figure out songs we can collaborate on. It shouldn't be hard."
The show at Chaplin's will get underway at 8 p.m. Tickets are $15 at the door. On July 19, Chaplin's will present Eric DiSanto, Jessica Graae and Quinn Devlin. Tickets are $10.
July 17 presents a hard choice for music fans trying to decide on which show to attend.
The Sun Center (63 Concord Road, Aston, 610-492-7722, http://www.suncenterconcerts.com) is presenting Procol Harum. The veteran British band had a huge hit in 1967 with the song "Whiter Shade of Pale."
The song, which featured Gary Brooker's haunting organ playing and distinctive voice, was a Number One hit around the world. The current line-up, which includes Brooker and lyricist Keith Reid (who was a founding member), has been together for more than 20 years.
The show, which starts at 7:30 p.m. and has a ticket price range from $59.50-$75.00, also features Carl Palmer as the opening act. Palmer is familiar to fans of classic rock as the drummer for the 1970s supergroup Emerson, Lake and Palmer. He also has been the drummer for Asia, The Crazy World of Arthur Brown and Atomic Rooster
On July 17, Market Street in Wilmington will be the location of the 2014 Ladybug Music Festival. The free event, which will be held in the 2nd & LoMa neighborhood along Market Street downtown Wilmington, will run from 5-10 p.m. and feature 40 talented music acts — all female.
The long roster of performers features a wide array of talent such as Rachael Sage, Angela Sheik, Danielle Cuoco, Andrea Nardello, Rachel Schain, Nalani & Sarina, Danielle & Jennifer, Hadar, Sweet Leda, Grace Bernicker, No Stringz Attached, Lauren Kuhne and Jessica Cayne.
Also on July 17, the Keswick Theater (291 N. Keswick Avenue, Glenside, 215-572-7650, http://www.keswicktheatre.com) will welcome Dennis DeYoung, who was the lead singer of Styx and wrote seven of the group's eight Top 10 singles. The band's major hits were "Come Sail Away," "Lady" and "Best of Times."
On July 17, the World Café Live at the Queen (500 North Market Street, Wilmington, 302- 994-1400,www.queen.worldcafelive.com) has Deltron 3030 and Kid Koala on its downstairs main stage and Sin City Band and the Mosstins on the upstairs stage.
Other shows slated for upstairs at the Queen are "Sweet Loretta Fat (aka Fooling April)…As the Beatles" on July 18, the July Singer Songwriter Showcase on July 19 and the Movement on July 23.
If you visit the American Music Theatre (2425 Lincoln Hwy East, Lancaster, 800-648-4102,http://www.amtshows.com) on July 17, you can catch a performance of AMT's original stage show "Music of the Night — The Songs of Andrew Lloyd Webber" featuring songs such as "The Phantom of the Opera," "Jesus Christ Superstar," "Cats" and "Evita."
The Flash (102 Sycamore Alley, Kennett Square, 484-732-8295, www.kennettflash.org) will have a triple-bill show on July 18 with RKCV, Janine Walters and Chris Ferron. On July 19 at 11:30 a.m., The Flash will host a matinee "CD Release Party" for "We Kids Rock!," the new album by Bill Currier and We Kids Rock.
Shows this weekend at Burlap & Bean Coffeehouse (204 South Newtown Street Road, Newtown Square, 484-427-4547, www.burlapandbean.com) include Jesse Terry, Lizanne Knott, and Tom Hampton on July 18 and Theresa Noye and Stacey Harcum on July 19.
The Sellersville Theatre (24 West Temple Avenue, Sellersville, 215-257-5808, www.st94.com) will present Get The Led Out on July 20, Skid Row on July 22 and Trampled Under Foot on July 23. Get the Led Out is also performing from July 17-19 but all three shows are already sold out.
Steel City Coffee House (Bridge Street, Phoenixville, 610-933-www.steelcitycoffeehouse.com) has a triple feature on July 18 with Torri Melhart, Ben Kessler and Larkspur Gunther. On July 19, the twin bill at Steel City features Devin Tuel and Brian Medlin.