Grand Celebrations of Art and Nature – and local art happenings this week
By Lele Galer, Columnist, The Times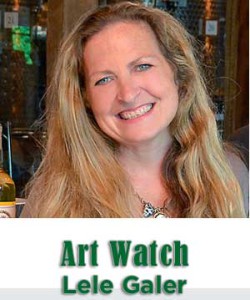 There are some terrific art exhibits underway in our larger local art institutions that each celebrate the link between art and nature. At The Brandywine Conservancy and Museum of Art the featured exhibit is "Lure of the Brandywine: A Story of Land Conservation and Artistic Inspiration" which is showing through August 10th. This unique exhibit celebrates the dual mission of the Conservancy and Art Museum by exhibiting 45 artworks "through the lens of land conservation."
What a wonderful place to spend an afternoon with your family! Art from local painters of the past 100 years each depicts distinctly Brandywine Valley environs, "conveying a strong sense of the region's distinctive identity and reflect the Brandywine River Museum of Art's rich holdings in landscape painting". The featured painting "Indian Hanna" is by much loved and respected painter and conservationist George A. Weymouth.
At Winterthur, you can spend a day strolling through their exceptionally beautiful grounds and then step back in time to the Costumes of Downton Abbey exhibit that is showing through the winter. If you are a huge fan of the TV show (I am!), consider buying tickets now to "A Night at Downton: Costumes of Downton Abbey Cocktail Party" on Friday July 25th from 7-10pm.
At Longwood Gardens they have recently opened their Meadow Garden. Full of three miles of new pathways and trails and interpretation,  it also includes their newly renovated Webb House (recently  restored by renowned architect John Milner) to include a gallery space for artistic interpretation of the Meadow Garden. "We tried to interpret the meadow through the lens of Beauty..with a very artistic approach" explains Ellie Byrom Haley, President of the Gecko Group and Chief Creative Officer for the interpretive design team. Another delightful combination of nature and art!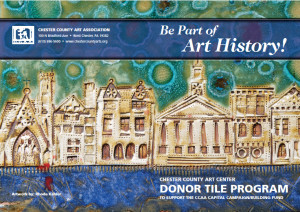 The Chester County Art Association has launched its "Donor Tile Program" where donors are invited to choose a tile size and have their name permanently placed on a new exciting wall mural designed by wonderful ceramic artist Rhoda Kahler. The funds for this tile mural will go directly to support the 3.5million dollar expansion project  for the Chester County Art Association. This is a great way to be a part of our local art history and support a wonderful cause. In downtown West Chester, the featured artist at Kent Studios is abstract painter Diane Micklin. Affordably priced acrylic abstract works that emphasize color and texture; Diane is a wonderful local Chester County artist that just keeps getting better every time.
Jewelry artist Robert Graham will be exhibiting this Thursday June 26th from 4-8pm at Galer Estate Winery for a Pop up show to benefit Tick Tock Early Learning Center in Avondale.  Robert's jewelry hand wrought designs combine repurposed found objects, pearls, gems and hammered silver wire. His work is very affordably priced and great for your everyday favorite outfits. At the recent Unionville Art  Gala, Robert Graham sold more than any other artist at the show. "Bobby" is very friendly and outgoing, and enjoys talking about what was the inspiration behind each of his designs. Besides a passion for creating, he also loves to teach the art of jewelry making. To see more of Robert Graham's jewelry and learn about where he teaches, check out his website at www.rtgraham.com.  Meet the artist and add to your jewelry collection at the Galer Estate Pop up show this Thursday June 26th. 20% of the proceeds from the Galer Estate Winery Pop up Art Shows  help support the Expansion Project for Tick Tock Early Learning Center in Avondale.
For artists wishing to get out of Chester County there is a fun new travel company for artists only that puts together a gorgeous itinerary of travel excursions aimed at the artistic eye. Artists can paint and tour and just have a terrific time together in a fabulous location. Their next trip is in August where they will visit Italy and Greece, and they have a couple of spots left www.artoftraveltours.com.
www.chestercountyarts.org/capital_building
longwoodgardens.org/meadow-garden-features
Lele Galer is an artist who has chaired numerous art shows, taught art history and studio art, public art and has chaired, written and taught the Art in Action Art Appreciation series for the UCFD schools for the past 12 years. She worked at the Metropolitan Museum of Art, and wrote for the Asociated Press in Rome.  She has been dedicated to Art History and art education for most of her adult life. Lele and her husband Brad own Galer Estate Winery in Kennett Square and co-Chairs the CCAA's New Building Campaign.