Being pregnant doesn't mean skipping a visit to your dentist
By Dr. Stephanie McGann, DMD FAGD, Columnist, The Times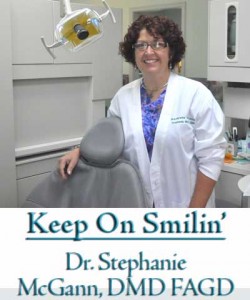 Every day there are questions about how safe is it to go the dentist when you are pregnant.  Preventive dental procedures, such as dental cleanings and examinations are not only safe, they are recommended and encouraged by most physicians.
Still, some procedures such as x-rays and certain medications should be limited to urgent concerns.
Pregnancy hormones can cause a specific gingival problem known as pregnancy gingivitis.  This bleeding, swelling and irritation of the gums in otherwise healthy dental patients will be less of a concern with regular dental cleanings. Preventive dental work throughout the pregnancy is essential to avoid any oral infections such as periodontal (gum) disease. Gum disease has been linked to low-birthweight and preterm deliveries.
Should I get dental work while I'm pregnant?
Any dental concern that is a result of or could lead to a dental infection should be treated even if you are pregnant. Most dentists agree that the second trimester is the best time. Dental work that is elective or non-urgent should be postponed until after the baby is born. Should an emergency arise, it will need to be treated. There is a lot of conflicting evidence regarding the safety of dental anesthetics during pregnancy. If dental work needs to be done, local anesthesia is the safest way to go. Your dentist should use enough to make you comfortable.  Going without and "enduring the pain" can add stress to the baby. If an antibiotic is needed one that has been labeled safe for use in pregnancy will be prescribed. If there are concerns, your dentist will consult with your physician about the safest course of treatment.
What about x-rays?
Routine x-ray exams can usually be postponed until after the birth. If an urgent concern is being treated some radiographs will be necessary. A lead apron will be used to protect the fetus. Some digital x-rays use the lowest amounts of radiation. According to the American College of Radiology, a single x-ray is not going to harm a developing embryo or fetus.
Timing is everything
Fetal organ development occurs during the first trimester; it is best to avoid all potential risks at this time if possible. If non-emergency dental work is needed during the third trimester, it is usually postponed until after the birth. This is to avoid the risk of premature labor and prolonged time lying on your back. The second trimester is the safest and most comfortable time to have dental procedures completed.
Checklist for comfortable dental care:
• The American Dental Association (ADA) recommends that pregnant women eat a balanced diet, brush their teeth thoroughly with an ADA-approved fluoride toothpaste twice a day, and floss daily
• Have preventive exams and cleanings during your pregnancy
• Let your dentist know you are pregnant
• Postpone non-emergency dental work until the second trimester or until after delivery, if possible
• Elective procedures should be postponed until after the delivery
• Maintain healthy circulation by keeping your legs uncrossed while you sit in the dentist's chair
• Take a pillow to help keep you and the baby more comfortable
• Bring headphones and some favorite music
If you are planning on getting pregnant, be sure to have your dental needs addressed before you get pregnant.  Don't let an unexpected dental emergency add stress to your pregnancy.
Dr. Stephanie McGann, who has more than two decades of dental practice experience, is a resident of the Unionville area and along with her partner, Dr. Marie Scott, operates The Brandywine Smile Center, a family-friendly dental practice in Concordville. Dr. McGann has opened a new practice in Valley Township, Rainbow Valley Dental. She is a Fellow of the Academy of General Dentistry.