Bold new take on the still life & what's going on this week in art
By Lele Galer, Columnist, The Times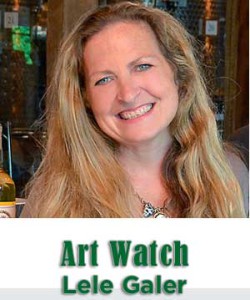 Painter Cortright Devereux will be exhibiting this Thursday June 5th from 4-8pm at Galer Estate Winery for a Pop up show from 5-9pm.
Devereux's work is primarily inspired by nature in the form of landscapes or natural still life. His still life abstractions are exuberant color filled canvases that exhibit a raw energy. His paint strokes remind one of 1950's gesture painters, where the vibrant strokes float on the exposed canvas surface.
When I talked to Cort about his work, he said simply that he painted "still lifes," which is funny because these table settings full of fruit are anything but still. He starts with this age-old subject matter and uses it as a jumping off point to explore the wonderful interplay of dashing brushwork and gorgeous color on the dapple-painted background of the canvas setting.
Recently graduated from the PAFA program, Cortright Devereux has been exhibiting regularly on the East Coast.  Come meet this interesting artist and see an exhibition of his latest works at the Galer Estate Pop up show this Thursday. 20% of the proceeds from the Galer Estate Winery Pop up Art Shows  help support the Expansion Project for Tick Tock Early Learning Center in Avondale.
This Friday is "First Friday" which means many art happenings all over Chester County and Wilmington. Starting in West Chester, The Art Trust show at The Meridian Bank has a fascinating trio of talented artists in the new show "Some Like it Hot" which was put together by Emily Wilkins. Artists Erica Brown, Kaori Homma, and Andrew Snyder exhibit work that fires up the senses. The opening night party is Friday from 5-8pm at Meridian Bank on 16 West Market Street. Food and drinks are generously provided by Red Sombrero, so you had better get there early.
Close by in Kennett Square, "Friday Art Stroll" includes two gallery opening receptions. At the Mala Galleria, the exhibit "Crescendo" features the meditative painted water works by artist Linda Celestian and at the Longwood Art Gallery, "Colour and Texture" opens with the ceramic tiles and sculptures by fabulous Rhoda Kahler, and lovely watercolors by artist Jack Giangiulio.
The opening reception is from 6-9pm and includes live music by The Ladeens and complimentary food and refreshments. While you are in town, stop by Charlie Metzger's Pottery Studio and see him demonstrate how to throw clay like a master (I love his bowls!), and check out the first ever "Vintage Art Sale" at Scout & Annie +Details store . On Sunday, Jack Giangiulio will discuss his work in the presentation "An Artist's Vision" from 1-3pm at the Longwood Art Gallery. Call the gallery to reserve a spot at 610-444-0146.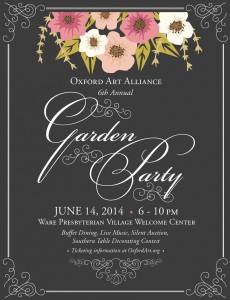 In Oxford, the Oxford Art Alliance opens  the 6th Annual Student Art show, from 5-8pm, representing student works from 4 different Oxford area schools.  Remember to get your tickets to the Art Alliance's biggest fundraiser of the year – and incredible fun-filled Garden Party  on June 14th at the Presbyterian Village Welcome Center. Managing Director, Christine Grove said that guests "go all out" for this great community event. There is a theme oriented table decorating contest with artists ,patrons and supporters pitted against one another for the grand prize. Think of it as a float contest for table decorations, and this year's theme is "Southern". Come dressed as Elvis? Rhett Butler? Sounds like a great time, with delicious food, refreshments and an awesome silent auction.
In Phoenixville, the fabulous Franklin Commons Art Gallery will be showing its last weeks of "Celebration of the Feminine" which is really a wonderful exhibit put together by gallery manager Katie Naber. If you are an artist, think about applying for their upcoming exhibit in July called "Fantasy and Abstract". For more information contact Katie at fc.curator@gmail.com.
In Wilmington The Delaware Center for the Contemporary Arts (DCCA) has extended Art on the Town with a "Fresh After Party" with live music by A.P.E. from 5pm -11pm on Friday June 6th.  Artists studios will be open to the public and the DCCA Studio Artists unveil  the new group exhibition "Accident", and at 6pm there is a Gallery Talk by Scott Kip on "Illuminated Structures".  Admission to DCCA is always free. This is also the last weekend to see three of their current gallery exhibits.  Saturday and Sunday, DCCA presents the two act play "Second Chances" at 2pm, $20 admission.
www.franklincommons.net/art-gallery/exhibitions
Lele Galer is an artist who has chaired numerous art shows, taught art history and studio art, public art and has chaired, written and taught the Art in Action Art Appreciation series for the UCFD schools for the past 12 years. She worked at the Metropolitan Museum of Art, and wrote for the Asociated Press in Rome.  She has been dedicated to Art History and art education for most of her adult life. Lele and her husband Brad own Galer Estate Winery in Kennett Square and co-Chairs the CCAA's New Building Campaign.