Time-worn objects shaped into jewelry treasures new plus what's going on this week in art
By Lele Galer, Columnist, The Times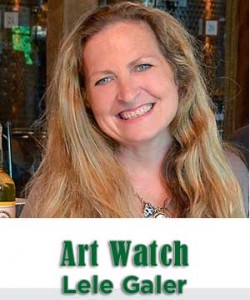 Jewelry artist Laura Lewis will be exhibiting her jewelry and hand blown glass pieces at Galer Estate Winery for this Thursday's Pop up Art show May 1st from 4-8pm.  Every Laura Lewis jewelry piece is a combination of a found object fragment and her own artistry. Lora says "I work with simple tools, and constantly collect beads and other treasures, both natural and handmade, to include in my jewelry pieces."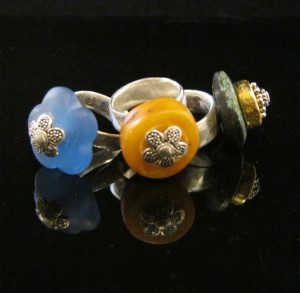 Laura is famous for her metal weaving technique, where a glass bead or natural object is encased in a mesh of finely woven metal threads. This technique was learned many years ago: "My mother taught me to knit with the spool when I was 4, and I've been a textile artist ever since.  About 30 years ago, I made the transition to metalwork, but I've stuck with many of the textile techniques I was already using – my comfort zone."  
Whenever I wear one of her necklaces, people always ask me where I got it and they always want to touch it!  Laura has an incredible talent for combining textures: shiny wire, matte glass, a patterned pebble, and mesh of all sorts.  She is "intrigued by interlocking, interwoven, meshing elements."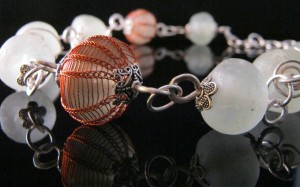 You can see the artist's hand in each jewelry item. Each is carefully crafted with attention to detail and to the integrity of the individual piece.  At this Thursday's Pop up show at Galer Estate, 20% of the proceeds from sales benefit the Chester County Art Association's new building fund.
As this is the first Friday of the month, you can expect some fantastic local art experiences this weekend! As everyone knows, First Fridays have artists showings all over town in Kennett Square,  West Chester and Oxford. Stroll through the towns and see Popup art exhibits in almost every store, as well as food and refreshments and plenty of special activities for the whole family to enjoy.
Thursday May 1st, The Potter's Guild preview show for the 2014 Guild Sale is at the Wallingford Art Center from 6:30-9pm. Get in on the sale early, for $5 admission fee, and enjoy some of the very best pottery in our area. The address is The Duke Gallery, Community Arts Center, 414 Plush Mill Road in Wallingford.
May 2nd, The Art Trust Show opening is from 5-9pm in the Meridian Bank Building in downtown West Chester at 16 West Market Street. This month's show gives us a sneak peak at one art image from each of the artists who will be participating in this year's not-to-be-missed Chester County Studio Tour. Come and checkout the artwork and make a list of each of the artists that you would like to visit on the big tour May 17-18th. Spice Indian Thai Bistro will be providing the food for the opening -sounds like a lot of fun!
Also on May 2nd, a few blocks away, The Chester County Art Association's week of West Chester Plein Air painting "Paint The Town" will be culminating in a popup show and sale at the Gawthrop Greenwood Building at 17 East Gay Street from 5-9pm.  If you would like to sign up to participate in the Plein Air event, just call the Art Association for more information at 610- 696-5600.
A few blocks from Gawthrop Greenwood's building, local painter John Hannafin and his friend Bam Margera will be exhibiting together at the Hotel Warner in "Polar Opposites Attract: Bam and John's Crazy Ass Iceland Art Show". The show will be based on their months of traveling around the perimeter of the island of Iceland and painting like madmen. John says "Though we've skateboarded together since childhood, our painting partnership has developed big-time the last couple years, both home in West Chester and abroad."
Pastel artist Christine Odo will have the opening reception for her new solo show at the Visual Expansion Gallery in West Chester located at 126 N.High Street in West Chester from 5-9pm. Her popular and beautiful moonscapes and landscapes will be on exhibit and she will be on site to talk with you more about her work.
Saturday May 3rd, art celebrations continue with an opening at the awesome gallery space at Franklin Commons in Phoenixville for "Art of the Feminine". Five images from each juried artist were selected for this special themed show which interprets "feminine" in a variety of art media. The opening is from 1-4pm on Saturday, and then head into town for the big Phoenixville Food Festival and enjoy delicious food, art and entertainment.
Also on Saturday over at the Beauty Gallery, artist Chris Niedland opens his show entitled "Synchromy", which is based on the Art movement of the early 1900's made famous by Kandinsky and Klee who saw the color equivalents to the tonal sounds in music. Paintings were called "symphonies" of color and music, and now Chris brings his original interpretation of this connection between sound and color and shape. The opening for the show is Saturday from 5-8pm, located at the Beauty Gallery at 3857 Providence Road, Suite 200 in Newtown Square.
Jewelry artist Lorri Primavera will be hosting an open house for her beautiful work at her home studio from 10am to 4pm at 208 Highland Avenue in Wallingford. What a wonderful gift for Mother's Day!
www.visualexpansiongallery.com
www.downtownoxfordpa.org/first_fridays_oxford_pa.html
www.BeautyArtGallery.net/Niedland.html
www.heronartstudios.com/lorri-work.html
Lele Galer is an artist who has chaired numerous art shows, taught art history and studio art, public art and has chaired, written and taught the Art in Action Art Appreciation series for the UCFD schools for the past 12 years. She worked at the Metropolitan Museum of Art, and wrote for the Asociated Press in Rome.  She has been dedicated to Art History and art education for most of her adult life. Lele and her husband Brad own Galer Estate Winery in Kennett Square and co-Chairs the CCAA's New Building Campaign.