Team will host car wash fund-raiser on Saturday at high school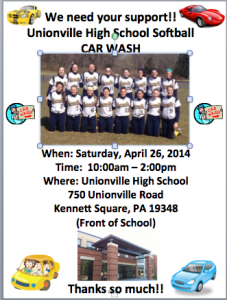 Got a grimy vehicle, still loaded with salt residue from winter's punishing weather – or even a relatively spot-free car that could use some added shine? The Unionville High School (UHS) softball players are hoping you'll wait until this weekend when they'll be happy to make that dirt disappear.
The team invites you to bring those vehicles in need of some enthusiastic elbow grease to its car wash fund-raiser at the high school on Saturday, April 26, from  10 a.m. to  2 p.m.
UHS is located at 750 Unionville Rd., Kennett Square, 19348. The team will be showing off its cleaning skills in front of the school.